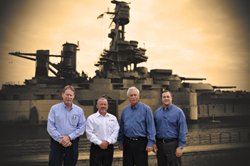 Finding ways to improve the comfort in some of the visitor spaces on this grand old girl while retaining her historical integrity and impact is definitely a challenging project for us, but one we are excited about pursuing
Houston, Texas (PRWEB) November 13, 2015
Taylor Norris, CEO Custom Air Products & Services, Inc. (CAPS), recently announced the recognition of the company's donations, in the form of HVAC equipment and installations, to a project aboard the historic Battleship Texas. The acknowledgement took place during a Veteran's Day meeting aboard the Battleship and involved recognition by the Battleship Texas Foundation's board members as well as a presentation of commemorative gifts. CAPS team members involved in the presentations included CEO Taylor Norris, President John Boger, Quality Manager Hans Muller, and Project Manager Ben Posson.
Launched in May 1912 and commissioned into service in March 1914, the Battleship Texas is notable in so many ways. The Texas is the only remaining WW1 era dreadnought battleship and is also one of only six remaining ships to have served in both World Wars. The list of "firsts" involving the Texas could fill several paragraphs, but one of her most amazing feats is her continuing ability to inform, entertain, impress, and impact people of all ages even today. The Battleship, which today serves as a hands-on museum and visitor attraction, is currently berthed at the historic San Jacinto Battleground in LaPorte, Texas.
"I really like pulling out the project book on this one," admitted Project Manager Ben Posson. "My office space is often covered in blueprints of projects in progress, but working from a set of Battleship blueprints definitely has an extremely unique built-in 'cool' factor."
CAPS President John Boger explained, "Working out the details of installing equipment on a 100-year-old battleship has been quite the challenge, but one we're really enjoying taking on. We know there will be more challenges ahead, but the rewards for being a part of preserving this important part of our nation's history are more than making up for them."
"One of the gifts presented to us was a small piece of the original structure," explained CEO Taylor Norris. "It's amazing for us to have this piece of riveted steel which has traveled around the world and been present at some really amazing moments in our nation's history. This stamped plate now sits in our corporate offices as a reminder of the importance of preserving pieces of our heritage. For CAPS, this focus has extended to contributing equipment, manpower, and expertise in an effort to improve areas of the ship that are used to welcome visitors. Finding ways to improve the comfort in some of the visitor spaces on this grand old girl while retaining her historical integrity and impact is definitely a challenging project for us, but one we are excited about pursuing."
About Custom Air Products & Services
Custom Air Products & Services, Inc. is a full-service HVAC company that specializes in the design, construction, installation, modification, and servicing of industrial and commercial air conditioning equipment. CAPS employees are committed to providing exceptional custom design and quality workmanship at competitive prices.
Custom Air Products & Services currently occupies five (5) modern facilities, totaling 200,000 square feet in size. These buildings include administrative and engineering offices, training facilities, a filter warehouse, and service shops for fabrication, manufacturing, and modifications. CAPS services are provided to customers throughout the United States and Mexico while their manufactured products have been delivered to sites around the world. Currently CAPS has equipment operating on six (6) continents and in 52 countries.