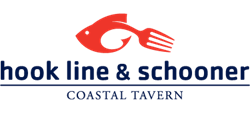 Smyrna, Ga (PRWEB) November 18, 2015
Hook Line & Schooner is now open in Smyrna, Ga., bringing the fresh flavors of the coast to Northwest Atlanta. From sandwiches to salads to mounds of shrimp, crab legs or oysters, customers can find their favorite flavors there. This casual seafood restaurant makes customers feel as if they are just a few steps from their favorite beach. Locals are encouraged to come by for a cold brew and some of their favorite seafood.
Familiar Owners:
For those in Smyrna and Lawrenceville who frequent McCray's Tavern, the same atmosphere can be found at Hook, Line & Schooner due to the fact they share the same owner: Scott McCray. Their mission was to bring fresh seafood from a "coastal tavern" to Smyrna and Vinings. While the menu selection may seem upscale, Hook Line & Schooner is a great place to kick back, relax and enjoy time with family and friends. Live sporting events are always broadcasting, and the tap is always cold. Their beer of the month is always presented in their famous schooner mugs.
Expansive Menu
Hook Line & Schooner features fresh fish every day. Nightly specials include $10 per pound snow crab legs on Tuesday, half price peel 'n' eat shrimp on Wednesday and half price oysters on Thursday. Seafood happy hour runs Monday through Friday from 4 to 6 p.m., including half price peel 'n' eat shrimp and half price raw oysters.
The weekends are also a great time to visit Hook Line & Schooner. Sunday brunch on the outdoor patio with family or friends can top off a fun weekend together. Whenever you are in the mood for fresh seafood in Smyrna and Vinings, Hook Line & Schooner is now open. For more information, visit their website at http://www.hooklineschooner.com.