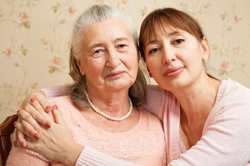 "To You From Beyond is a wonderful service that gives me an opportunity to leave something behind for my family members after I am gone." Lucy M., Sioux City, IA
Logansport, IN (PRWEB) November 14, 2015
To You From Beyond LLC has joined the Indiana Association for Home and Hospice Care (IAHHC), the voice of Indiana's home care providers, as an associate member. To You From Beyond, a new courier service for persons who are knowingly aware that they are near the end of life, can archive and securely store their personal hand-written letters to their loved ones and schedule them for delivery after they have passed away.
To You From Beyond, "offers a more tangible and personalized experience than the various posthumous digital time capsules and online messaging services already in existence", says co-founder Erica Hopkins. TYFB has a growing list of advocates, and through these partnerships they provide TYFB Notekits, which include free letter writing supplies to home care agencies, assisted living agencies, and other organizations, or other care providers serving persons nearing the end of life.
Lucy, a grandmother with Stage 3 Dementia, knows that soon the memories and names of her beloved family will start to evaporate. Each day, she takes out the scrapbooks she so carefully put together throughout their thirty years of marriage, and wishes that her husband was there to let her know that everything is going to be ok. Thankfully, with help from a member of her palliative care team, who introduced her to To You From Beyond, she has been given the opportunity to not only give comfort to her loved ones, but also to herself.
Lucy decided that her oldest granddaughter should have her famous meatball recipe on the day of her wedding which is scheduled for next year. She wanted to let her son know how very proud of him she is for stepping up and being a great help to her after his father died a year ago. Most importantly, Lucy knew that her daughter would be the most upset after she was gone, and so she decided to write letters to her to be delivered on each birthday with the help of the TYFB Notekit. This may be the last chance she has before the dementia will no longer allow her to give advice, wish her a Happy Birthday, and say "I wish I could be there with you." Next week, she'll mail the letters to TYFB to be archived, leaving one more thing checked off of the things left on her mind. She'll know that they will safely be archived, with the dates of mailing being when her loved ones will need them the most.
Dr. Linda Rubino has worked with terminally ill patients for over 30 years; she is also the co-founder of To You From Beyond. "Persons approaching the end of life have often verbalized their worry about how loved ones will cope once they have passed on," said Rubino. "Our company recognizes the importance of meeting the mind, body, and spiritual needs of persons nearing the end of their life, by giving them peace, and the opportunity to deliver memorable, hand-written letters and/or videos for their loved ones to cherish forever".
To You From Beyond is a great asset to the IAHHC, to all Hospice Networks, to all of the caregivers, and especially to the ones we love who are currently facing the end of their lives, and to the love ones they'll leave behind. A current advocate for TYFB, is Betty Ferrell, PH.D., F.A.A.N., Professor and Director of Nursing Research and Education at City of Hope Medical Center in Duarte, California, who eloquently agrees that, "To You From Beyond is such a gift – a wonderful resource to give patients the opportunity to share sacred thoughts which can offer tremendous comfort at all of the pivotal moments in life".
For more information about To You From Beyond, visit their website http://www.toyoufrombeyond.com or call TYFB TOLL-FREE AT (844) 343-TYFB.