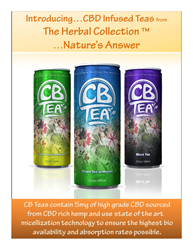 Houston, TX (PRWEB) November 17, 2015
Minerco's The Herbal Collection™ Reveals CB Tea
CB Tea, by The Herbal Collection™, Utilizes a Proprietary Formula of Healthful Cannabidiol (CBD) and Herbal Extracts
HOUSTON, TX – November 17, 2015 -- Minerco, Inc. (OTC: MINE), parent company of Athena Brands, Inc., announced its The Herbal Collection™ ("THC") brand has finalized its proprietary formulation for its lineup of cannabis-based CB Teas. Minerco's CB Teas, sub-branded under the THC brand, will initially launch a trio of ready to drink (RTD) teas enhanced with micellized Cannabidiol (CBD) and natural herbal extracts.
CB Teas contain the highest quality natural teas and sweeteners combined with a propriety blend of CBD, valerian root, skullcap, cinnamon, orange and clove to create a relaxing, healthful and refreshing experience. The collection of CB Teas will contain 5 milligrams of micellized high grade CBD (the equivalent of over 25 milligrams of non-micellized CBD) sourced from CBD dominant hemp plants and will be initially available in Green Tea, Black Tea and Green Tea & Lemonade varieties.
The final 23.5 oz. packaging and nutritional panel are being reviewed for regulatory and legal compliance, but the proposed packaging concept is available on The Herbal Collection's social media pages at:
http://www.twitter.com/THCBrands
http://www.facebook.com/THC-Brands-1612787715668835/
http://www.instagram.com/THCBrands
The proven and patent protected micellization technology ensures the highest bio availability and absorption rates of the CBD to the consumer. This state of the art micellization technology combined with the widely accepted health benefits of CBD is expected to strategically position Minerco's CB Tea within the category at very competitive pricing. The retail market testing will be handled through Minerco's vertically integrated Southern California infrastructure spearheaded by its majority owned distributor, Avanzar Sales and Distribution.
"Our new CB Tea, by The Herbal Collection, is a scientifically healthful and refreshing product legally delivering the many benefits of cannabis based CBD. Owning our own distributor provided us with a unique advantage to see emerging products and trends, as well as see the concepts that don't quite make the grade. After watching the category for the past 2 years, we feel we have created the optimum CBD infused product which is advanced in science, competitive in price and delicious in taste," said V. Scott Vanis, Minerco's Chairman and CEO. "In addition to our 23.5 oz. CB Teas, we are working to perfect our proprietary blend of micellized CBD and herbal extracts into a 2.5 oz. RTD shot for on-the-go consumers, and the shot format will also be more cost effective for direct to consumer sales including online customers."
About Minerco, Inc.
Minerco, Inc. (OTC:MINE) is an emerging growth company specializing in the food and beverage industry. Its portfolio includes Athena Brands, Inc., The Herbal Collection™ and Coffee Boost™. Athena Brands, Inc. is a specialty beverage company that develops, produces, markets and distributes a diversified collection of forward-thinking, enhanced and healthful consumer brands. The Athena Brands portfolio includes Avanzar Sales & Distribution, LLC, VitaminFIZZ®, Vitamin Creamer® and Island Style™. http://www.minerco.com
About CBD
Cannabidiol (CBD) is a compound in cannabis that has shown to offer beneficial medical effects to the body without the psychoactive effects associated with Tetrahydrocannabinol (THC). Scientific and clinical research, much of it sponsored by the US government, underscores CBD's potential as a treatment for a wide range of conditions, including arthritis, diabetes, alcoholism, MS, chronic pain, schizophrenia, PTSD, depression, antibiotic-resistant infections, epilepsy, paranoia and other neurological disorders. CBD has demonstrable neuroprotective and neurogenic effects, and its anti-cancer properties are currently being investigated at several academic research centers in the United States and elsewhere.
About Micellization
Micelles are the atom sized stable aggregates of surfactant molecules, which form spontaneously in surfactant solutions. Put simply: Micellization is the scientific process of coating a particle in a surfactant solution to yield a higher potency at delivery.
Public Disclosure
Details of the Company's business, finances and agreements can be found as part of the Company's continuous public disclosure as a fully reporting issuer under the Securities Exchange Act of 1934 filed with the Securities and Exchange Commission's ("SEC") EDGAR database. For more information, please visit: http://www.minerco.com. The above statements have not been evaluated by the Food and Drug Administration (FDA). These products are not intended to diagnose, treat, cure or prevent any disease.
Safe Harbor Statement
This release contains forward-looking statements within the meaning of Section 27A of the Securities Act of 1933 and Section 21E of the Securities Act of 1934 that are based upon current expectations or beliefs, as well as a number of assumptions about future events. Although we believe that the expectations and assumptions upon which they are based are reasonable, we can give no assurance that such expectations and assumptions will prove to have been correct. Some of these uncertainties include, without limitation, the company's ability to perform under existing contracts or to procure future contracts. The reader is cautioned not to put undue reliance on these forward-looking statements, as these statements are subject to numerous factors and uncertainties, including without limitation, successful implementation of our business strategy and competition, any of which may cause actual results to differ materially from those described in the statements. We undertake no obligation and do not intend to update, revise or otherwise publicly release any revisions to these forward-looking statements to reflect events or circumstances after the date hereof or to reflect the occurrence of any unanticipated events. Although we believe that our expectations are based on reasonable assumptions, we can give no assurance that our expectations will materialize. Many factors could cause actual results to differ materially from our forward-looking statements.