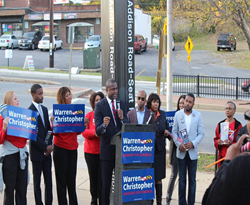 Upper Marlboro, MD (PRWEB) December 07, 2015
Upper Marlboro, MD -- Warren Christopher, retired lt. colonel in the U.S. Army and candidate for the 4th Congressional District of Maryland, released the following statement on Defense Secretary Ash Carter historic announcement that all military combat jobs will be opened up to women:
"I salute and honor Secretary Carter for standing up for women in uniform. As a retired
Lieutenant Colonel, U.S. Army and a combat arms officer of the Field Artillery, I have served with warrior women on the field of battle and I'm so glad that those and future women warriors will now formally have the opportunity to serve in whatever field they choose.
Until now, more than 220,000 combat roles in the Armed Forces have not been available to many of my more than capable comrades. This policy change will be the catalyst to pay parity and women achieving historic successes in national security.
With no restrictions on women serving in the combat arena, those seeking leadership roles can now obtain higher positions, such as Infantry Battalion Sergeant Major. Positions of the like, were traditionally closed off to many accomplished and skilled women. With these combat and leadership roles come more pay and incentives that were previously illusive to women.
It is past time that their hard work and sacrifices are acknowledged and rewarded. Secretary Ash Carter has put 220,000 cracks in the glass ceiling, allowing women in the military to break through. I look forward to the day when we celebrate the first chairwoman of the Joint Chiefs.
As a father of two talented daughters, I'm thrilled, should they choose to serve our great nation in uniform, that they will be empowered to participate in their field of choice.
We know the undisputable truth 'when women succeed, we all succeed.' Bravo"