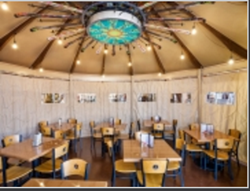 Salt Lake City, Utah (PRWEB) November 15, 2015
Sugar House Awning was recognized for it's Commercial design, Mellow Mushroom, with the International Achievement Award (IAA). While competitors from 11 countries around the world competed, Sugar House Awning's overall design, complexity, workmanship, uniqueness and function stood above the rest.
Mellow Mushroom was created for a client who requested a structure similar to a yurt. "Our client wanted it to be fun and functional. It would be used to separate large parties from the rest of the building and create a sense of privacy " explained Mike Peterson, Sugar House Awning and Canvas President.
The creation of a yurt like structure for the interior of a building came with many challenges but Project Manager Craig Sevy and his team welcomed the task and created an award winning design.
Winning the Award of Excellence for their design was satisfying but the most important thing for Sugar House Awning was how their client felt about the results. "Our client was thrilled with the outcome of this project. It was a fun design that was completely unique and easily operated. It also turned out to be a clean and charming layout that will attract customers for years to come" said Mike.
Sugar House Awning Industries has been operating since 1941. Early on, awnings were strictly made to shade the windows of homes, apartment buildings and businesses. As time went on however, awnings have become used for much more. Sugar House Awning Industries successful history has prepared them for this progression in the market and they are excited for the next design challenge. For more information about the company please visit, http://www.sugarhouseawning.com. For more information and photos about the award and Mellow Mushroom project please visit
http://www.ifaipublications.com/iaa/articles/2015_600_mellow_mushroom.html