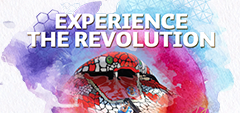 Seven new options in component visual design from Polin offer nearly unlimited opportunities for waterparks looking to set themselves apart.
Kocaeli, Turkey (PRWEB) November 15, 2015
Polin's 'Art gallery' at IAAPA showcases new, different, waterslide components.
Polin Waterparks changed the way that waterslides look when it offered the first waterslides composed via Resin-Transfer Molding (RTM) technology. That manufacturing technology was revolutionary when it was introduced 9 years ago, and today it continues to set the standard for the waterslide parts.
The result has been a range of waterslide options from Polin that range from solid colors to translucent with optional Special Pattern Effects, Natural Light Effects and, most recently, Natural Sound Effects. (See details that follow on these patented options.)
But Polin has now set a new standard for waterslide manufacturing excellence. It' s newest technology innovation turns waterslides into genuine works of art with both interior and exterior designs - fully embedded into the production of the waterslides - that will change the way waterslides are themed forever more.
Seven new options - Fusing Waterslides with Art
Seven new options in component visual design from Polin offer nearly unlimited opportunities for waterparks looking to set themselves apart. Now, they not only can offer guests a thrilling ride experience but also fully themed slides that seamlessly reflect a park's motif in ways never before available.
The new options include:
Slide 'n Roll. This new offering combines all of Polin's exclusive technologies - unique sound, lighting and design special effects - into one slide to create an experience that fulfills the full range of sensory stimuli for guests.
Graffiti. The design application includes customizable, hand-drawn, exclusive illustrations that will create a strong and unique visual impact. All Graffiti designs are tailor-made to a park's theme.
Mosaic. Parks looking for a sophisticated alternative for their slides can choose the Mosaic exterior. This option reflects the Italian art of tesserae - a design technique in which individual tiles form the shape of a cube. But unlike actual tesserae, Polin's version is one solid piece of design and is available in a wide range of colors.
Triangulated. The three-dimensional, embossed surface of this option reflects light much like a solid prism. The unique geometrical shapes of this design create truly artistic theming options.
Wood 'n Slide. For parks eager to add a natural look to their slides, this option provides an astonishingly realistic wooden finish in a variety of wood veneer options.
Reflection. The visual appeal of high-tech facades are created from the metallic colors applied to this offering. Shiny, reflective and glossy surface finishes are available in gold, silver, copper and platinum.
Honey Comb. Similar to the Triangulated option, this specialty pattern is cut and applied to Polin's slide components to create a honey-comb appearance. A surprising number of metal patterns can be created from this option.
On display in the Polin "Art Gallery" at IAAPA
Visitors to the International Association of Amusement Parks and Attractions (IAAPA) Expo, Nov. 17-20 in Orlando, Fla., can explore an art gallery of Polin's inspired designs within its booth, No. 4239. Polin invites all attendees to stop by.
Sohret Pakis, Director of Marketing and Communication for Polin, says the new offerings are proof that Polin is constantly striving to offer new experiences. "We are always taking it one step further -from our current design options" she said. " These offerings are just one more example of how we want our park partners to be able to offer the unique experience for their guests and enhance storytelling."
More on Natural Light Effects technology
Due to a special, patented process that Polin employs during the manufacturing of its tunnel-type fiberglass waterslide components, the tubes can create beautiful, natural designs inside them as riders pass through when its Natural Light Effects technology is chosen. The special lighting effect - which requires no electricity - occurs from the sun's rays shining through the slide's fiberglass sides and interacting with the flow of water through the tubes. The results are harmonious, colorful designs that continually change and adapt depending on the angle and strength of the sunlight. Both riders inside the slides and viewers on the ground can enjoy the dynamic experience as lighting changes throughout the day.
More on Special Pattern Effects technology
Polin enhances the slide experience through the incorporation of a special manufacturing technique of fiberglass coloration that is applied on the outer surface of the ride. Polin uses open-mold production methods to create the Special Pattern Effects and incorporates Magic Shine, which doubles the visual feast with its shiny exterior.
More on Natural Sound Effects technology
With Polin's new Natural Sound Effects technology, its waterslide modules essentially become giant, passive speakers that naturally amplify sound through the entire tube due to the company's innovative incorporation of tactile transducers into the systems. Also known as bass shakers, these devices transmit a low-frequency vibration onto a surface - in this case, Polin's waterslide tubes - so that the vibrations turn into sound and can be heard by riders as they travel through the slide.
More on the new offerings
1. SLIDE'N ROLL, featuring:

Combines exclusive sound, design and light effects
Full sensory stimuli
Experience throughout entire slide experience
2. GRAFFITI, featuring:
Exclusive, handmade illustrations
Unique designs
Strong visual impact
Customizable theming options
3. MOSAIC, featuring:
Unlimited design options by mixing different pieces/colors
Remarkable theming selections
Show-stopping visual impact
4. TRIANGULATED, featuring:
Three-dimensional, embossed surface
Theming possibilities
Unique geometrical shape
5. WOOD 'N SLIDE, featuring:
Astonishingly real wood finish
Provides natural feel to park's environment
Wide variety of wood veneer options
6. REFLECTION, featuring:
Metallic textures
Shiny, reflective, glossy finish
Gold, silver, copper and platinum choices
7. HONEY COMB, featuring:
Specially designed, cut and applied patterns
Themed possibilities
Unique geometrical shape
Surprising metal patterns
More on Polin Waterparks
Polin was founded in Istanbul in 1976, and has since grown into a leading company in the waterparks industry. Today Polin is one of the world leaders in the design, production, and installation of waterparks, waterslides & water play attractions. 2500 waterpark projects in more than 93 countries around the world have been completed by Polin, and Polin is the biggest waterslide supplier in Eurasia. Working with a wide variety of clients has helped Polin reach several milestones; including installing the first waterparks of many countries and many other award winning rides at parks with world-renowned reputations. Polin offers the industry's widest range of products, including signature rides such as the patented King Cobra, Magic Spheres, Spheres, Magi Cone and Space Shuttle.
Polin is the pioneer in the advancement and application of closed-molded manufacturing technology in waterslide development. First implemented in 2006, 100% of Polin's annual fiberglass production has been converted to resin transfer molding (RTM), and meets the industry's highest standards. Polin offers both bowl rides and family rides featuring RTM techniques. Polin also offers its unique and patented Natural Light Effect technology, Special Pattern Effects technology in RTM and translucent RTM waterslides. Polin is an ISO9001 certificate holder by TUV Germany since 2003, all Polin slides conform to European norms, all steel parts conform to international DIN standards, all designs conform to ASTM practices, and Polin is also CSEI approved for projects in China. Polin is the only waterslide company that holds a quality certificate for all of its waterslides by TUV, and was the 2012 Export Winner of Turkey in the SMSE Category. Polin has a high plant capacity with production in Turkey. Polin's team totals 350 people, with five offices throughout the world.
Polin is committed to providing the best-quality product and service by investing in continuous research and development. The company plans to further expand its L-RTM line while introducing new signature rides and innovations.