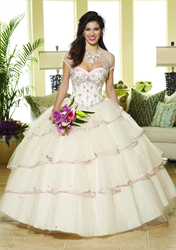 Buying fresh or silk flowers from the same source retail florists, and event designers shop is a time honored way to save money.
Los Angeles, California (PRWEB) November 13, 2015
The Quinceanera's dress may be the star of the show but Quinceanera flowers are the supporting cast and an important part of creating a beautiful event . "Quinces' are initiated into the creative world of event design as they learn to plan, budget, organize and shop for their 15th birthday. It's an opportunity to learn how to shop in a DIY wholesale environment to buy the very best up to 70% off retail prices," says Mark Chatoff president of California Flower Mall, a 45 vendor DIY wholesale flowermart in Downtown L.A.'s Flower District.
Where do Quinces' learn the art of sourcing DIY wholesale merchandise? The LA Fashion District, which includes LA's Flower District, has a searchable data base and mobile app to locate wholesale businesses that sell Quinceanera flowers, dresses, accessories and court apparel to the public at discount prices. LA Fashion District public relations director Ariana Gomez, a former Quince who designed her own event advises, "Buying fresh or silk flowers from the same source retail florists, and event designers shop is a time honored way to save money. Southern California Quinces' are lucky to live near the largest wholesale flower district in the U.S. and the largest collection of Quinceanera dress distributors and wholesalers in the West -- our little secret is many wholesale businesses serving the trade also sell to the public."
Floral and event designer Romeo Jimenez, proprietor of Flamingo's Flowers at California Flower Mall and a veteran Quince court member, gives these money saving tips to buy quality Quinceanera flowers for less:
1. Begin floral planning 4 – 8 weeks in advance, after the dress, theme, and color of the court's apparel has been selected.
2. Decide on floral décor and where it will be placed. A Quinceanera bouquet is a must. Will the court have bouquets or boutonnieres? What areas of the church will be brought to life with flowers? What floral centerpieces are needed for the head table, guest tables, serving tables and home?
3. Checkout retail prices first. Know what things cost. Get 3 comparable price quotes.
4. Affordable best buy flowers include alstroemeria lilies, carnations, chrysanthemums, freesia, gerbera daisies, gladiolus, hydrangea, ranunculus, heather, and lisianthus. Select flowers in season to get the best price. Flamingo's Flowers specializes in fresh or silk flowers.
5. Get it in writing. The written flower order lists every detail you and the vendor agree on. Flower types, colors, the different pieces (bouquets, boutonnieres, centerpiece, church arrangements), per piece prices, total price, delivery or pick-up dates and instructions and payment terms. Question "extra" or add on charges - these are usually negotiable.
6. Haggle. Cash is king for negotiating the best prices. Flamingo's accepts cash, credit cards, and payment plans.
7. Get real. Delegate DIY floral decorating on this special day. "It's an important and emotional day for the Quince princess. Be the princess and don't take on decorating duties – let court members, family or the floral pros handle it," Jimenez cautions.
About California Flower Mall
Watch a video on how to buy the best Quinceanera flowers for less at http://www.californiaflowermall.com. California Flower Mall, located at 825 San Pedro Street, is one of the largest DIY wholesale flower marts in Downtown Los Angeles' 8 block Flower District trade community. LA's Flower District is the largest floral trade community in the U.S.