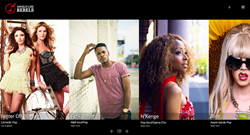 For the past two decades the music industry blamed fans for its problems. We see fans as a solution.
New York, NY (PRWEB) November 13, 2015
Angels Like Rebels, a record label that engages fans in talent discovery and promotion, announced that more than 30,000 fans have pledged over $500,000 to artists on its crowdfunding platform in first week since its launch on November 5, 2015.
"Our goal is to empower artists by changing the way record deals are signed and funded, to make the music industry a fairer place for people who create music," say Alexander Volgin, the company's 20 year old founder. "We are happy that our mission resonates with so many fans."
The first funding round will continue until November 22, 2015. It features 22 artists selected by the company from over 600 applicants. Every angel who contributes over $50 to artists through the company's platform will be invited to select artists for future funding rounds. Artists in the current round represent many different genres of music - from "conscious hip-hop" to "alt pop with a nerdy soul". The company makes a point of not boxing its artists into traditional genre definitions.
Artists funded through the platform commit to release two albums with Angels Like Rebels label within 3 years. Unlike traditional record label deals, artists keep 70 percent of net profits and maintain full artistic control over their music. Fans also benefit from the success of artists they fund by enrolling in crowd-marketing campaign to promote their music and sharing 20 percent of net royalties for 3 years.
"For the past two decades the music industry blames fans for its problems," adds Andrei Volgin, the company's chairman. "We see fans as a solution."
You can access Angels Like Rebels crowdfunding platform at:
https://www.angelslikerebels.com