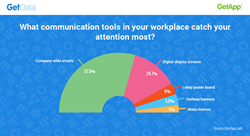 the high number of respondents choosing digital displays places this particular technology as one of the emerging trends that is set to grow in the coming years.
San Francisco, CA (PRWEB) November 15, 2015
GetApp, the largest cloud-based business app marketplace, today published surprising figures highlighting employee views on the most effective communication tools within small and medium-sized businesses.
The survey is part of GetApp's ongoing GetData research program and is based on the responses from over 500 senior professionals, aged 24-54, at small and medium-sized businesses across the US.
While just over 50% of respondents identified "Company-wide emails" as the go-to communication platform, nearly a quarter of surveyed employees chose "Digital Display Screens" as the second most engaging solution for receiving information. These digital channels eclipsed the more tangible, traditional methods with only 5.96% employees choosing "Lobby Poster Boards" closely followed by "Hallway Banners" (5.77%) and "Mass Memos" (3.98%) as preferred forms of company communication.
The study found only a mere 1.79% of respondents identified "Company-wide Tweets" as their chosen form of communication, exposing surprising views on the use of social media as an internal information tool.
Christophe Primault, co-founder of GetApp, says, "We knew that digital solutions would be the preferred platforms among employees. But social media, widely seen as the most popular tool for information, was dead last. With millennials already highly active in the workforce GetApp researchers naturally expected this number to be much higher, but the figures highlight the shortcomings of social networks as an effective workplace solution. This is why GetData's raw research, which gives businesses valuable insights into emerging trends, is so valuable."
Although the survey has confirmed email as the established mode of internal company communication, both employers and employees are seeing the benefits of dynamic, alternate solutions. For GetApp researchers, the high number of respondents choosing digital displays places this particular technology as one of the emerging trends that is set to grow in the coming years.
In comparison to email, for example, digital display screens' non intrusive nature within the workplace can be a far more effective form of conveying information without the element of distraction. According to a recent University of California study, information workers without access to email are able to focus more and for longer periods of time on set tasks.
"Email communication remains the number one method for internal messaging, however, digital signage is steadily gaining traction. The visual influence and attention-grabbing nature of digital signage allows for more impactful message delivery than a standard email can. When partnered with dynamic, up-to-date, eye-catching content, digital signage boosts internal communication in ways that emails will never be able to," explains Mike Kilian, Director of Business Development at Mvix, a leader in affordable digital signage.
"Digital signage also creates avenues for employee engagement that email can't. For instance, the HR department can display stock and financial information on digital screens to educate employees on how to invest their 401k" added Mike.
GetData is conducted independently by GetApp to gain effective insights into the impact of SaaS and cloud-based solutions on small and medium-sized companies. Furthermore, the analyzed information helps show real, current interaction between SaaS customers and products and services.
Full survey details:
Answers to the question "What communication tools at your workplace catch your attention most?"
#1: Company-wide Emails (57.85%)
#2: Hallway Banners (5.77%)
#3: Lobby Poster Board (5.96%)
#4: Digital Display Screens (24.65%)
#5: Company-wide Tweets (1.79%)
#6: Mass Memos (3.98%)
Demographics: 500 US-based respondents from a panel of SMBs (Small and Medium-sized Businesses). Respondents are aged between 25 and 54 and have an average inferred annual income of $24k – $150k.
More about GetApp: GetApp, a Gartner company, is an online marketplace for cloud-based business apps, specializing in helping small and medium-sized businesses find, research, and get in touch with business app providers from over 100 software categories. GetApp's Europe office is based in Barcelona, Spain, and the U.S. office is in San Francisco, CA.