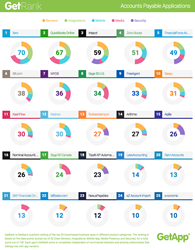 Billing & Invoicing software increasingly benefits from the proliferation of mobile integrations.
(PRWEB) November 14, 2015
GetApp, the leading cloud-based business apps marketplace, has announced its Q3 ranking of the top Billing & Invoicing solutions. Xero led the pack with a score of 71, while Freshbooks had a score of 69, narrowly edging out QuickBooks Online which had a score of 67.
The ranking is based on five unique data points which are social media presence, security, integrations, mobile app availability, and user reviews. GetRank is updated every quarter in order to reflect fresh data. The aim of GetRank is to give businesses a first-look at some of the top Billing & Invoicing software available in the cloud.
GetRank scores are calculated using information taken from GetApp and other third-party sources. Integrations and user reviews are based on GetApp data, while security data is collected from vendors who fill out a security survey based on the Cloud Security Alliance's self-assessment form. Social media and mobile app compatibility are taken from Google Play and the Apple App Store.
Alongside the ranking is a report on trends in Billing & Invoicing software, with contributions from business technology journalist Sholto MacPherson. In the report, he notes that Billing & Invoicing software benefits from the proliferation of mobile integrations.
"At a minimum, business owners should be able to create and send an invoice to a client on the spot and record and photograph an expense receipt. Ideally, they should be also be able to reconcile accounts on the go," says MacPherson.
Click to read the entire Q3 GetRank report, Accounting in the Cloud: Key Trends for 2015, which also features the Q3 Billing & Invoicing ranking.
More about GetApp: GetApp, a Gartner company, is the leading premium business app discovery platform on the web. Headquartered in Barcelona (Spain), GetApp serves as a platform for user-generated and editorial reviews of software and apps for businesses.