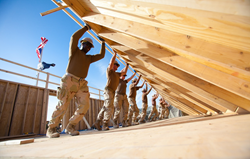 Model Home Leaseback Programs
Wilmington, North Carolina (PRWEB) November 15, 2015
As Boomers continue to push forward with their relocation plans, Real Estate Scorecard finds many aren't ready to move tomorrow, yet real estate prices continue to rise. This creates a quandary. Cutting edge custom home builders in Wilmington NC have found a way to solve the problem for today's buyers while helping themselves reduce model home carrying costs. Real Estate Scorecard spoke with several home builders in the area last month to learn more about how model home leaseback programs work.
The common thread Real Estate Scorecard heard about leasebacks is that the home builder covers the cost for utilities, yard maintenance and maintaining the home during the leaseback. The homeowner is responsible for taxes, insurance and HOA fees. Often times, the home warranty doesn't begin until the homeowner takes possession of the home. This is an added plus for home buyers. Logan Homes NC also offers a transferrable 10-year written warranty backed by insurance to provide additional peace of mind.
Here's who's offering model home leasebacks in the best place to live in North Carolina. Keep in mind these prices are subject to change at any time.
LOGAN HOMES NC - Building homes since 1986, Logan Homes NC has built a stellar track record of success and customer satisfaction by exceeding customer expectations and turning dream homes into reality. They've developed the 'Smart Matrix' which consists of 17 energy efficient systems to reduce high energy bills, improve comfort and help protect the environment. Model homes under construction or planned may be eligible for a model home leaseback. The estimated income return is 5% of the purchase price for a period of 12 months. On a $400,000 home, that's $1,666 a month. Todd Garrett is the Builder Specialist of Logan Homes NC and can be reached at 910.443.0243 to discuss their programming.
LEGACY HOMES BY BILL CLARK - An esteemed, award-winning homebuilder in the Carolinas since 1977, Bill Clark Homes has constructed a reputation of providing buyers with the most home for their money. And now, Legacy Homes, Bill Clark's newest division, focuses on building homes with a buyer's lifestyle in mind. Model home leaseback programs range from $1,500-$2,000 per month for 12 month leaseback (or approximately 4.5% of the purchase price). Temple Mullis is the point of contact and can be reached at 910.408.1090.
HAGOOD HOMES - Jim and Troy Kenny have been building homes since 1996 in the best place to live in North Carolina, Wilmington. Together they have won the prestigious Parade of Homes Gold Award for several consecutive years and perfect scores for their designs and quality of work. Hagood Homes standard features include 12 foot ceilings, tall windows and crown modeling. Hagood Homes offers a 4% of the purchase price for a one year leaseback on select model homes. They can be reached at 910.256.8284.
HORIZON HOMES - Working as a team, Robin Hackney designs and builds the homes and Deans Hackney develops the land and lot side of the business. As one of the leading custom home builders in Wilmington NC, their company provides top-notch customer service, green building options, custom and individualized home designs, and a buy-local mindset. Horizon Homes' floor plans are customizable and energy efficient. Robin Hackney was at one time a professional chef therefore kitchens are "her specialty". Their prices include building permits, water/sewer hookups and ARC fees. Horizon Homes offers up to $1,100 per month on a 12 month model home leaseback. They have over 25 homes plans to choose from ranging from 1,600 - over 4,000 square feet. Robin Hackney can be reached at 910.508.6655 if you would like more information..
LAUREL COMPANIES - Tim Barker has over 25 years of residential construction experience and leads construction at the Laurel Companies. They use a team approach and develop a trusted relationship with each of the clients and integrate them into the team of professionals to make certain we have a seamless line of communication that allows Laurel Homes to build your home to your exact specifications and on time. Cottages and a tabby-shell foundation are their signature look. Model home leaseback options range from $1,700-$1,900 per month for 12 months. Tim Barker can be reached at 910.632.3765.
KENT HOMES - From its founding in 1989, Kent Homes was structured to provide an overall building experience that would earn rave reviews from clients. The company operates on four 'Smarter Core Values': 1) more personalized attention 2) homes that feel better 3) homes done right the first time 4) most satisfying home building experience. The Balboa Bay featured in the 2015 Brunswick County Parade of Homes won the diamond award and is available for leaseback as well as others. Kent Homes offer 4% of the purchase price for a period of 12 months. Ashley Kent can be reached at 910-547-9700.
Boomers who've got Wilmington on their mind for retirement, Real Estate Scorecard believes the first stop should be at Brunswick Forest, an award winning master planned community nestled in lush woods, yet near the beach. The North Carolina coastal community is home to Cape Fear National with 18-holes of premium public golf in a setting of unmatched beauty. Home prices range from the $300k's to right at $1 million. Lifestyle amenities include:
BRUNSWICK FOREST AMENITIES
18 Hole Championship Golf Course designed by NC native Tim Cate
Golf Clubhouse with restaurant and bar
18,000 Square Foot Fitness & Wellness Center with lounge
Indoor and Outdoor Swimming Pools
5 Hard Surface Tennis Courts and a Sport Court
6 Hard Surface Pickleball Courts
Community Parks and Gardens
100+ Miles of Walking, Biking and Nature Trails
Canoe, Kayak and Small Boat Launch
Whether buyers are coming from the north or the south, Wilmington has crowned itself as the best place to live in North Carolina. At Brunswick Forest, buyers will find plenty of high quality custom home builders in Wilmington NC to choose from.
Call Brunswick Forest direct at 877-588-4313 to schedule a tour.
About Real Estate Scorecard:
Real Estate Scorecard writes unbiased real estate reviews providing in-depth information about popular gated communities in Florida, Georgia, North Carolina, South Carolina and Tennessee, all in an effort to help people discover where to retire in the Southeast.
Website: http://realestatescorecard.com