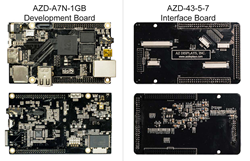 Aliso Viejo, California (PRWEB) December 04, 2015
A new Development Board Kit targeted at industrial users is introduced by AZ Displays Inc. and is featured by Future Electronics Inc. in its November/December 2015, Display Application Spotlight of Future Technology Magazine.
The AZDA20-KIT, which includes both the SBC board AZD-A7N-1GB and the interface board AZD43-5-7, allows engineers to seamlessly switch between a variety of options of the manufacturer's TFT product line throughout the design stages:

For use with 4.3", 5" and 7" TFT's
Resistive or PCAP touch screens
RGB or LVDS LCD Panel interfaces
Several brightness options.
"In our daily engagement with application engineers and designers we keep learning that screen sizing and various touch and interface options are not always a constant throughout the concept/design stages of TFT development projects" said Dave West, president of AZ Displays. "The designers of our industry partners need the flexibility to seamlessly switch between several options during multiple design iterations, without the complication of added interfaces. This kit provides them those options".
The development board has 1 GB DDR3 memory and 4GB NAND storage, and features a 1 Ghz ARM Cortex A7 Dual-Core SOC along with HDMI, RGB and LVDS output options.
Stephen Exell, Director Display Solutions for Future Electronics, Inc. commented: "AZ Displays uniquely understands what design engineers, working on TFT applications, really need. This development tool for AZ Display TFT products is technically robust, well thought-out and versatile for users in the industrial community."
AZ Displays plans to make available several tutorials on its website – both as instruction videos and in text-form - supporting customers in making their software design process even faster, easier and more seamless.
Both AZ Displays and Future Electronics are stocking the development kit for immediate delivery at a $99 Price.
Detailed information for the board is available on AZ Displays website
Link to Future Technology Magazine.
Contacts:
Company website: http://www.azdisplays.com
Email: sales(at)azdisplays(dot)com
Tel: (949) 360-5830
AZ Displays, Inc, a Zettler Group company, develops, manufactures and markets a broad range of high quality Zettler Displays, including character and graphics LCD modules, custom glass, color TFTs, and resistive as well as projective capacitive touch panels. We offer options for customization and special sizes/colors to accommodate specific customer requirements for all our products. In addition, the company offers a suite of value-added and system integration services designed for the industrial OEM market.