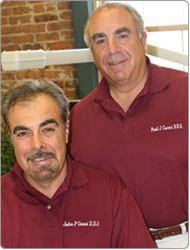 New Milford, CT (PRWEB) November 13, 2015
Drs. Paul and John Caceci invite patients who may have sleep apnea symptoms to visit their practice, Caceci Family Dentistry. As dentists in New Milford, CT, who have recently completed the Dental Sleep Medicine program offered by Sleep Group Solutions, Drs. Caceci are now able to offer advanced technology to detect sleep disorders. Patients who visit their practice can receive at-home sleep tests or testing with CT scans, rhinometers and pharyngometers.
Drs. Caceci are pleased to be dentists in New Milford, CT, who now have the training and technology necessary to help patients find out if they have sleep apnea or other common sleep disorders. With the help of at-home tests and in-office technology, the doctors can help patients understand the underlying cause of their disorder and provide them with treatment advice. Sleep disorders are very common, but many affected patients are unaware that they have these conditions. Common symptoms of sleep disorders include snoring, waking frequently for seemingly no reason, and chronic fatigue. If sleep disorders are left untreated, patients could end up with long-term health consequences that could affect their quality of life.
Drs. Caceci received very valuable training regarding sleep disorder detection and treatment during the Sleep Group Solutions program. They are now able to diagnose sleep disorders with advanced technological tools such as the pharyngometer, rhinometer and CT scans. If it is discovered that a patient does indeed have sleep disorders, Drs. Caceci can recommend effective treatment options, including wearing a special mask called the Continuous Positive Airway Pressure (CPAP) to provide positive-pressure air flow and keep the airway open while sleeping. In some cases, losing extra weight may be recommended in order to relieve pressure on the throat and encourage proper airflow. Extreme sleep disorder cases may even require surgery, although these cases are not very common.
Patients who think they may have sleep apnea and who would like to receive diagnosis and treatment from qualified dentists in New Milford, CT, are invited to set up a consultation at Caceci Family Dentistry.
About The Doctors
Caceci Family Dentistry is a general practice offering personalized dental care for patients in New Milford, CT. Drs. Paul and John Caceci graduated from Georgetown University School of Dental Medicine and joined their father's practice established in 1971. Drs. Paul and John Caceci are committed to continuing their education and have extensive cosmetic dentistry training. Caceci Family Dentistry uses top of the line dental equipment because they believe everyone deserves the best possible care. Both Dr. Paul and John Caceci are members of the American Dental Association, Connecticut Dental Association and the Greater Danbury Dental Society. To learn more about the services offered by Caceci Family Dentistry, please visit their website at http://www.cacecifamilydentistry.com or call (860) 354-9600 to schedule an appointment.