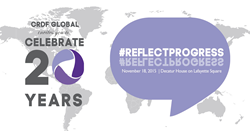 This fun and inspirational event spotlights critical work in international science engagement.
Arlington, VA (PRWEB) November 15, 2015
CRDF Global announced today two new developments for the 2015 Annual Awards Gala at the Decatur House on Lafayette Square, Washington, DC, November 18. Dr. Sergio Jorge Pastrana, foreign secretary and executive director of the Academy of Sciences of Cuba, will be in attendance, along with several foreign ambassadors from around the globe. The organization also announced a limited number of discounted tickets for students. CRDF Global is an independent nonprofit that promotes cross-borders collaboration through grants, technical resources, training and services.
The Gala, themed, "Reflect & Progress," will celebrate how international scientific and technical collaboration is improving lives. Due to a generous gift from a donor, a limited number of students can attend for only $25, instead of the typical student discount of $150. This gives more students the opportunity to network with science and policy leaders and enjoy great speakers and delicious food at the most unique science and innovation event of the year. Students may contact Diana Sanchez at dsanchez(at)crdfglobal.org or 703-526-2328 to register.
This fun and inspirational event spotlights critical work in international science engagement and will commemorate the 20th anniversary of CRDF Global. Dr. Peter Agre, Bloomberg, Distinguished Professor and Director, Johns Hopkins Malaria Research Institute and recipient of the 2003 Nobel Prize in Chemistry will receive the George Brown Award for International Scientific Cooperation. DuPont will receive the Corporate Impact Award for using science-driven innovation to nourish a growing population and build a secure energy future.
In addition to the honorees, speakers will include:

Mr. Maxmillian Angerholzer, Managing Director, the Richard Lounsbery Foundation
Dr. Tamar Kokashvili, researcher with George Eliava Research Institute of Bacteriophages, Microbiology and Virology, Tbilisi, Georgia, University of Maryland fellow, CRDF Global grantee
Mr. Paul Longsworth, Vice President, International Environmental / Nuclear, Fluor Corporation
Dr. Gerald Parker, Vice President for Public Health Preparedness and Response, Texas A&M Health Science Center
Amb. Thomas Pickering, Career Ambassador and Under Secretary of State for Political Affairs
Ms. Lois Quam, Chief Operating Officer at the Nature Conservancy
Amb. Kenneth M. Quinn, President of the World Food Prize Foundation
Dr. William C. Wilson, Research Microbiologist, USDA, Agricultural Research Service, CRDF Global grantee
Mary Woolley, President, Research!America
To buy tickets, sponsor or make a tax deductible donation, visit http://www.crdfglobal.org/awards.
The honorary chair is Walter F. Mondale, 42nd Vice President of the United States, and former U.S. Senator. He is joined by a special 20th Anniversary Honorary Committee, led by Ms. Dona Crawford, Dr. Gloria Duffy, Dr. John H. Moore, Dr. Peter Raven and Dr. William Wulf.
About CRDF Global
CRDF Global is an independent, nonprofit organization that creates opportunities for scientists and innovators to make the world a better place. Established in 1995 to promote international scientific and technical collaboration through grants, technical resources, training, and services, CRDF Global specializes in bringing isolated scientific communities into the global scientific mainstream. CRDF Global has 20 years of experience managing international research funding programs and supporting emerging science and technology infrastructure in more than 40 countries around the world. CRDF Global is based in Arlington, Virginia, with offices in Amman, Jordan; Almaty, Kazakhstan; Moscow, Russia; and Kyiv, Ukraine.