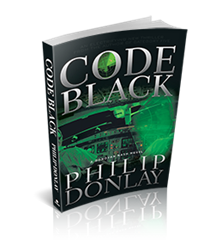 "In Code Black, Philip Donlay firmly establishes himself as a writer of great thrillers. His knowledge of aviation is incredible." —Steve Thayer, author of Ithaca Falls
Longboat Key, FL (PRWEB) December 01, 2015
Oceanview Publishing announces the release of CODE BLACK by Philip Donlay.
Praise for the Donovan Nash Series
"Authors like Philip Donlay, who write the pure thrillers, have capabilities and strength I can only envy. Great pacing and twists. Bravo!"
—William Kent Krueger, Edgar Award-winning and New York Times best-selling author of Windigo Island
"[Deadly Echoes] is a heart-thumping ride that steams along, bringing our flawed world into pristine focus. Lots of mischief and mayhem, the characters fraught with danger, the plot hitting all the right notes."
—Steve Berry, New York Times best-selling author of The Patriot Threat
"Philip Donlay's new thriller, Zero Separation, is a timely and terrifying roller-coaster ride depicting the realities of the post-9/11 world."
—Sheldon Siegel, New York Times best-selling author of The Confession
"Fans of Michael Crichton will not want to miss Deadly Echoes. Well researched and supremely entertaining, Philip Donlay has knocked this one out of the park!"
—Ward Larsen, USA Today best-selling author of The Perfect Assassin
"[Zero Separation] Fans of political thrillers and military fiction, especially those dealing with the aerospace industry, will devour this one."
—Booklist
The Story...
A terrible blizzard, a grisly accident, a midair collision…and that's only the beginning
As a blizzard bears down on Chicago's O'Hare airport, a critical air traffic control facility is shut down by a grisly accident. When the radar comes back up, two planes have collided. Wayfarer flight 880—half the roof ripped away—flies on. Seated amid the stricken passengers is Donovan Nash, a pilot who fights decompression and oxygen deprivation to make it to the shattered cockpit. With the help of Audrey Parrish—a woman from his concealed past—and a handful of survivors, Donovan struggles to keep the 737 airborne.
Waiting for Donovan's flight to arrive, his fiancé, Dr. Lauren McKenna, learns that something has gone terribly wrong in the aircraft. Lauren must convince Henry Parrish, an unlikely ally, to help her save the man she loves. Together, Lauren and Henry have to stay one step ahead of the airline, as well as heightened security, to execute a daring rescue to save Donovan and the others on Flight 880.
About the Author...
Philip Donlay learned to fly at age seventeen and was first published at eighteen. In the aviation world, success came quickly and he's been flying jets since he was twenty years old. Whether flying a Saudi sheik, nighttime freight, or executives of a Fortune 500 company, Donlay has logged over six million miles while spanning the globe to forty countries on five continents. Donlay burst onto the literary scene in 2004 with the publication of his first novel, Category Five, followed by Code Black, Zero Separation, Deadly Echoes, Aftershock and Pegasus Down. He divides his time between Montana and the Pacific Northwest.
CODE BLACK is available at bookstores and your local public library, and is distributed by Baker & Taylor, Ingram, Bookazine, OverDrive, and literary distributors everywhere.