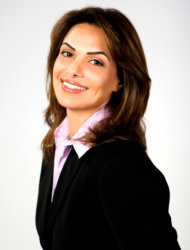 Antioch, CA (PRWEB) November 13, 2015
Dr. Marzieh Oghabian, with Bahia Dental Group, is pleased to announce that she is now accepting new patients for dental implants in Antioch, CA, at her Pittsburg, CA office. Dr. Oghabian recognizes the severe effects and dental issues associated with missing teeth, and its impact on self-confidence. She highly recommends that all eligible patients receive the benefits of this innovative treatment option, to avoid further or even detrimental damage to oral health.
This innovative treatment option offers significant benefits, compared to traditional methods typically utilized, to replace missing teeth. Patients can consume food without restriction or fear of embarrassment because these implants are firmly rooted in the jaw, providing the same functionality and strength as that of natural teeth. Implants provide the jaw bone sufficient stimulation to maintain bone density, which prevents deterioration, a process that usually occurs when patients lose one or more missing teeth. One of the most beneficial advantages for dental implants in Antioch, CA, proves to be the convenient maintenance. Only routine daily brushing and flossing habits are required for their proper care.
Implants function well due to the schematics of their design. The implant itself is comprised of a titanium root, mimicking the natural root of a tooth. It is surgically placed in the jaw and integrated into the bone, in a process known as osseointegration. A crown, which simulates the appearance and functionality of a natural tooth, is then connected to the titanium root with an abutment piece. This simple design is both functional and long-lasting. With proper care, these implants can last for decades. Traditional methods of treatment may require replacement at least once, every five to ten years.
Those who would like to learn more about the advantages of dental implants in Antioch, CA, are encouraged to contact Dr. Ohgabian's office to schedule an appointment.
About the Doctor
Bahia Dental Group is a family and cosmetic dentistry practice in Pittsburg, CA. Dr. Marzieh Oghabian earned her Doctor of Dental Surgery degree from Case Western University School of Dentistry in Cleveland, OH. There, she also completed an externship in Oral Surgery and was awarded the "Excellence in Prosthodontics" award. Dr. Oghabian is a member of the American Dental Association, and is committed to providing professional, comfortable dental care to each patient. To learn more about the services offered at Bahia Dental Group, please visit the website at http://www.bahiadentalgroup.com or call (925) 230-9415.