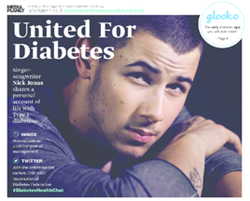 My diabetes has definitely made me stronger. It's a big contribution to my character.
(PRWEB) November 13, 2015
Research has come a very long way in regards to managing diabetes, as well as helping prevent serious complications that develop as a result. Aside from managing blood glucose levels, people with diabetes are at higher risk for developing hard-to-heal wounds as well problems with their feet, vision and kidneys. This campaign discusses how patients can help avoid these complications as part of their daily management.
Nick Jonas, singer-songwriter and actor, graces the cover of the print publication. In an exclusive interview with Mediaplanet, he shares his personal experiences with Type 1 diabetes and how he adapted to his condition with the help of his friends and family. "We all go through something that makes our life challenging," he says. "My go-to advice is to trust in your family and friends." Jonas concludes by putting everything in perspective, stating, "We need to look at it in a different way. My diabetes has definitely made me stronger. It's a big contribution to my character."
The print component of "United for Diabetes" is distributed within this weekend's edition of USA Today in Los Angeles, New York and Washington DC/Baltimore, Seattle, Houston and Boston, with a circulation of approximately 450,000 copies and an estimated readership of 1.3 million. The digital component is distributed nationally, through a vast social media strategy, and across a network of top news sites and partner outlets. To explore the digital version of the campaign, click here.
This edition of "United for Diabetes" was made possible with the support of Nick Jonas, American Diabetes Association, American Association of Diabetes Educators, Taking Control of Your Diabetes, American Kidney Fund, American Nephrology Nurses' Association, International Diabetes Federation, DiabetesMine, Bayer HealthCare, Davis Vision, Dexcom, Insulet, JDRF, Tandem Diabetes Care, American Podiatric Medical Association, Glooko, NxStage, Osiris Therapeutics, Skinfix, ARKRAY USA and many more.
About Mediaplanet
Mediaplanet is the leading independent publisher of content-marketing campaigns covering a variety of topics and industries. We turn consumer interest into action by providing readers with motivational editorial, pairing it with relevant advertisers and distributing it within top newspapers and online platforms around the world.
Press Contact:
Lindsay Dworetz
lindsay(dot)dworetz(at)mediaplanet(dot)com
646-922-1406