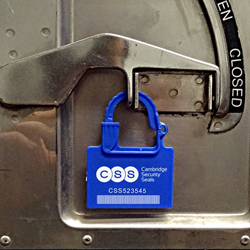 Our extraordinary growth has been customer-driven, and this investment focuses directly on enhancing the customer experience at CSS. - Brian Lyle, President, Cambridge Security Seals
Pomona, NY (PRWEB) November 18, 2015
Cambridge Security Seals (CSS), a global quality leader in tamper-resistant and loss prevention seals, has announced the successful completion of Phase 1 of its ambitious manufacturing expansion plan, a multi-year endeavor designed to add capacity and introduce new products through investment in and application of innovative production and automation technologies and processes.
"We are extremely pleased with the results of this first phase of our expansion," notes Brian Lyle, President of Cambridge Security Seals. "What is especially gratifying is that our extraordinary growth has been customer-driven, and this investment focuses directly on enhancing the customer experience at CSS."
Phase 1 of CSS's expansion, which began in 2014, included increasing capacity by more than 50% through the introduction of enhanced technologically-driven processes on its production lines and energy-efficient automated material handling and disbursement equipment. During this phase, CSS also introduced two innovative one-piece products to its line, a pull-tight seal (OPS) and a padlock seal (OPP), both of which have quickly and deeply penetrated their target markets.
Cambridge Security Seals is one of the fastest growing private companies in America, as ranked by Inc. Magazine, which reports that the company has experienced a three year growth rate of almost 500%. CSS has also doubled the size of its workforce over that period which, according to Lyle, points to the "importance of ensuring quality people running a quality-focused operation."
"Against a backdrop of zero-growth in the U.S. manufacturing sector, Cambridge Security Seals has persevered in developing a business model in which customer needs drive the manufacturing process," explains Elisha Tropper, CEO of Cambridge Security Seals. "This expansion further positions CSS as the industry's premier security seals supplier, giving customers peace of mind and confidence knowing that they will receive the product they want, how they want it, and when they want it."
Cambridge Security Seals can be contacted at 845-520-4111 or via email at info(at)cambridgeseals(dot)com.
About Cambridge Security Seals
Cambridge Security Seals, a privately-held enterprise headquartered in New York, offers an extensive line of tamper evident, tamper resistant, and high-security loss prevention seals to customers across a wide range of industries. The company's dedication to uncompromising quality, dedicated customer service, and outstanding value provides a blueprint for reliability and security. CSS services an increasingly diverse customer base spanning a variety of industries, including airlines, freight, logistics, distribution, trucking, retail, cash handling, rail transportation, government, pharmaceutical, food and beverage, medical, and agriculture.
Cambridge Security Seals' commitment to technology, quality standards, environmental responsibility, and attention to detail fuels its drive to provide security-conscious customers with the products, services, and value they demand from an industry leader.
The backbone of Cambridge Security Seals is a diversified team of technical experts and business professionals, including experienced engineering, design, production, and logistics specialists. This unique blend of management and production expertise enables the company to provide an unmatched level of value. For more information about Cambridge Security Seals, please visit http://www.cambridgeseals.com.
Contact:
Michael Berean
845-520-4111
mberean(at)cambridgeseals(dot)com