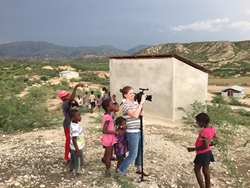 We're looking to build a 'Peachtree Street' in Haiti – we want this Hatian community to see the presence of Atlanta's generosity. With just 90 homes, our city could eliminate an entire tent slum in that country.
Atlanta, GA (PRWEB) November 13, 2015
The Atlanta-based video storytellers of Friendly Human have moved out of their trendy office space in Atlanta Tech Village a month early in order to use November's rent money to build a home for a family in Haiti. Instead of shooting and editing video for Fortune 100s like The Home Depot and MailChimp in the comfort and privacy of their studio, the firm is using CEO Daniel Roberts' living room as their home base. What began with Roberts' idea to fund one home in Haiti using a month's worth of office rent has gained traction among the firm's clients, business partners and friends. Now, Friendly Human is asking Atlanta's larger business community to donate to the "No Home November"' effort with the goal of funding the builds for 10 new homes in Haiti by the end of the month.
"Friendly Human has always been about telling compelling, human-centered stories. So, when we met the folks at New Story, we were compelled to tell their story and to fund a home, and when I realized we could fund it with just one month's rent, it was a no-brainer," said Roberts. "Now, we're looking to build a 'Peachtree Street' in Haiti – we want Atlanta's presence of generosity to be seen in this Haitian community. With just 90 homes we could, as a city, eliminate an entire tent slum in that country."
The month-long "No Home November" campaign will culminate with a street naming ceremony that will hark to Atlanta's landmark street, Peachtree Street. The campaign has drawn attention from Atlanta civic and business organizations and leaders, including the Metro Atlanta Chamber (MAC). The Metro Atlanta Chamber has committed $6,000 to build a new home as a part of the effort.
"MAC and our ChooseATL campaign exist to evolve perceptions about Atlanta, and what better way to do that than to showcase our impact globally," said VP of Marketing Kate Atwood. "The partnership forged between Friendly Human and New Story is a great example of the collaboration that happens all around our region to make a difference both locally and internationally – we're thrilled to be a part of it."
A catastrophic, 7.0 magnitude earthquake struck Haiti in January of 2010. More than five years later, 79,397 people still live in temporary tents according to the International Organization for Migration's latest figures. "There's still a lot of work to be done to get Haitian communities back on their feet, but we're doing our part," said Roberts. "One month's office rent here in Atlanta can provide a family the protection of a stable home to last a lifetime and beyond."
To support the campaign, visit campaign.newstorycharity.org/nohomenovember and follow the progress throughout the month of November on social media at #NoHomeNovember.
About Friendly Human: We're Human – Storytellers
Driven by a corporate belief that "remarkable people deserve to have their story told," Friendly Human strives to distill each and every story they capture in to short, visually-appealing videos that move people to action. The company specializes in persuasive storytelling through brand, culture and testimonial films. Friendly Human works with medium-sized to large organizations, including The Home Depot, ABM and the Georgia World Congress Center. Friendly Human is also committed to giving back to their community and the firm is an active supporter of the Global Conservation Corps, New Story Charity, and 48in48. Friendly Human has an eye for seeing a compelling story and translating that story into video marketing concepts – with a touch of humanity – every time. To learn more about Friendly Human, visit http://www.FriendlyHuman.com.