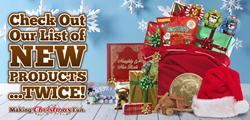 Reading, PA (PRWEB) November 16, 2015
R.M. Palmer Company, one of the top 80 confectioners in the world, announces the launch of six new products to help you and your family ring in the Holiday season.
Leading the parade of new Palmer confections this season is the chocolate Mega Coin. At nearly 8 inches tall, "mega" perfectly describes the one pound Belgian milk chocolate coin, which comes foil-wrapped and patterned after the Kennedy half-dollar. This delicious treat, which may be the largest chocolate coin available for retail sale, makes a great holiday gift, even if it might be too big to fit in your stocking.
Those ultra- gaudy holiday sweaters that have become a yuletide standard are the stars of a new Palmer novelty candy as well. The new Double Crisp® Ugly Sweater Gift Box is sure to put a smile on the face of even the most fashion-forward folks on your list. Crispy, crunchy Palmer Double Crisp® candies, wrapped in their own ugly sweater foils, will make you smile even before you eat them. Bring a few boxes to your own ugly holiday sweater party.
Fans of white chocolate will want to try Flakey's Snow Fun Mix, an assortment of bite-sized white chocolate and cookies 'n' crème flavored candy balls individually wrapped in snowflake-decorated foil wrapping.
Two more new additions to the Palmer line, the hollow Merry Mouse and the Mesh Money Bags, feature Palmer's famous and distinctive Double Crisp® and make delightful stocking stuffers, while the big 3.75-pound Santa's Holiday Mix bag provides the perfect mix of goodies for those who want a variety of Palmer candies for stocking stuffers, candy dish fill, or parties!
About R.M. Palmer Company
R.M. Palmer Company has been crafting fun, seasonal chocolate novelties since 1948. Today, the R.M. Palmer Company is the 79th largest confectioner in the world, and the 21st largest confectioner in North America (source: candyindustry.com). From their headquarters in West Reading, PA, Palmer's 850 dedicated employees design, produce, package and ship more than 500 unique items to nearly 100,000 retail locations in North America - making Palmer one of America's largest and most innovative confectioners. For more information about R.M. Palmer Company, visit http://www.rmpalmer.com.