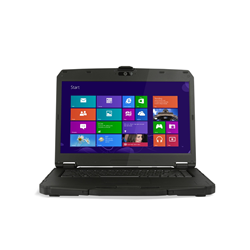 "This ensures that our customers, no matter what their field, can always choose a tough, dependable, cost-effective GammaTech product featuring the most up-to-date technology."
Chandler, AZ (PRWEB) November 17, 2015
Group Mobile Adds New S15AB Rugged Notebook from Durabook
Group Mobile, well known for carrying the top brands in rugged laptops, rugged tablet PCs, rugged smartphones, and rugged handheld computers has extended its product offerings to include the new GammaTech Durabook S15AB. GammaTech is a major international manufacturer and supplier of innovative notebook and tablet computers.
"GammaTech takes its leadership position in the rugged notebook category very seriously," remarked Jen Chen, GammaTech President. "That is why we continually introduce new models to our DURABOOK line. This ensures that our customers, no matter what their field, can always choose a tough, dependable, cost-effective GammaTech product featuring the most up-to-date technology. Such is the case with our new DURABOOK S15AB notebook."
The Durabook S15AB features a generous 15.6" LCD display with full high-definition resolution (1920x1080 resolution); Intel's latest generation CPU; a Broadwell U series CPU platform; up to 16GB of memory; and the popular built-in DURABOOK toughness. With its variety of security systems, the DURABOOK S15AB is ideal for applications such as those found in the automotive industry, government and mobile applications. An assortment of wireless communication methods keeps S15AB users in touch with the world. These include 1GB integrated Ethernet, Intel dual-band wireless AC 7265, and an optional integrated M2 module (Type 3042) for WWAN/GPS EM7355/EM7305 module, and antenna support for bands of Gobi 3000 and LTE.
The Durabook S15AB rugged notebook features a one-chip solution with a high-definition graphic engine, and featuring 15W low-power consumption. It supports Intel vPro technology to meet mobility and security needs, and has a powerful Intel 5thGeneration i-Core/Pentium CPU for better graphics, longer battery life, faster video conversions and stunning graphics.
The Durabook S15AB features a web cam with microphone, capacitive touch pad with gesture support, and has an integrated smart card reader. Buyers can opt for an internal wireless modem and storage is up to 1TB with a standard HDD or 512GB via SSD. The Durabook S15AB also has a SuperMulti optical drive and a battery pack good for up to 8.5 hours of use.
The Durabook S15AB is designed to be a tough and dependable laptop for the various environments first responders work in. The outer case of the notebook is made of magnesium alloy, which is 20 times stronger than ABS plastic found in other traditional laptops. The Durabook S15AB is also rated for dust resistance to IP-5X, and tested to MIL-STD 810G for vibration resistance and to ASTM 4169-08 standard for truck transport. Its C face - including keyboard, keypad, buttons, and indicators offer spill protection as well as an integrated top handle which make carrying a synch. The S15AB offers a variety of security systems: TPM 2.0 module data protection, a Kensington lock connector, and administrator and boot password control. It is also Computrace ready in case the unit is ever stolen.
The Durabook S15AB can be ordered from Group Mobile today. To learn more, visit http://www.groupmobile.com/product.asp/sku=6/dept_id=/mf_id=91/GammaTech+Durabook+S15H+Semi-Rugged+Notebook.html, or call toll free 866-RUGGED8 (1-866-784-4338).
About Group Mobile
Headquartered in Phoenix, AZ, Group Mobile serves customers all over North America. Customers range from Fortune 500 companies and the U.S. Military, to local police/fire/ambulance, to small and mid-size businesses, to the frequent traveler that needs something more durable than a commercial, off-the-shelf computer. Group Mobile carries all the leading rugged computing brands. In addition, Group Mobile offers vehicle docking and mounting equipment from Gamber Johnson, Ram Mounts, and Havis/Ledco. To learn more about rugged computers and how they differ from commercial, indoor computers, check out the Rugged Computer Guide or visit us online at http://www.groupmobile.com.