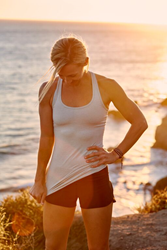 We were all tired of paying unreasonably high prices for athletic wear that wasn't holding up to our active lifestyles, we knew there was a better way
San Francisco, CA (PRWEB) November 13, 2015
Four Athletics has launched a Kickstarter campaign that's redefining the activewear business model and offering consumers premium activewear at a fraction of the price. Four Athletics is able to provide USA-made, top quality, high performance activewear at prices that are 40-50% below retail.
Four Athletics is taking the Kickstarter model of crowdsourcing and applying it to the retail industry. In traditional retail, designers are constantly trying to predict trends two or three seasons out, forecasters assign potential volume to certain styles, and marketing takes over to try to sell the customer something they may not even want. This leads to massive overproduction, waste, and higher prices. Inefficiencies, excess stock, and retail markup contribute to pricing that is often five-times more than the production cost.
Using a crowdsourced model, Four Athletics is able to line up supply and demand with what the consumer wants 100% of the time. This eliminates waste, and provides products at true wholesale prices, directly to the consumer. This model allows Four Athletics to work backwards, starting with the demand for a product and only producing the exact quantity that's wanted.
"The retail industry is in desperate need of innovation and our experience with crowdfunding provided a solution," said Cody Thompson, Four Athletics co-founder. "The inefficiencies of the current retail model lead to over-production and layers of middlemen that all get added into the final prices that consumers are forced to pay."
Four Athletics was founded by two sets of brothers who have an impressive combination of experience in fashion, athletic competition, and the back-end/wholesale side of the clothing industry – it seemed like a perfect opportunity make a change.
"We were all tired of paying unreasonably high prices for athletic wear that wasn't holding up to our active lifestyles, we knew there was a better way," said Matt Magnone, Four Ahtletics co-founder. "So we decided to do something about it."
They started with a single prototype and let their customers vote (or "back") the product they liked most. If enough people back it, the product will go into production. If there isn't enough demand, no one gets charged and the item doesn't get made. The consumers get to decide what they make.
"It's a low-risk model for the consumer and manufacturer, and as a result, we're able to eliminate retail markup and provide an incredible value," added Magnone.
Here's an example of how it works: Four Athletics introduces the W Omni Yoga Legging. The fabric Minimum Order Quantities (MOQs) are 300 yards and production MOQs are 250 units. When the style is released the campaign is set at the threshold of 250 units to reach its goal. If 250 people back the W Omni Yoga Legging at $58 (wholesale price), the campaign closes and the purchase orders are issued to the mill and production facility. A perfect model to match supply and demand, delivered directly to consumer, and to top it all off, it's made right here in the USA.
According to the American Apparel & Footwear Association, America makes only 2% of its clothes in the US. By choosing to do business with smaller, sustainable American manufacturers, Four Athletics is helping change that trend. Four Athletics prides itself on using the best fabrics in the world and the best production facilities in the US.
"Our core training line for men and women is made to withstand the most vigorous workouts and we look forward sharing our high quality activewear with consumers at dramatically lower costs than they are used to paying," added Thompson. "Four Athletics isn't just another athletic brand, it's a better way."
Four Athletics' Differentiating features include:
1. Crowdsourced - You decide what we make! Crowdsourcing allows us to match up supply and demand 100% of the time. We only make what you want.
2. Wholesale Pricing - A better business model allows us to sell these premium products at a fraction of the retail price!
3. Made in the USA - All of our products are proudly made in the USA. That will never change.
4. Community - Cutting out the middle man gives us an unprecedented opportunity to connect the people who back our products to the people who make them. More transparency, more communication, and all-around more human.
For more information visit Four Athletics' Kickstarter campaign