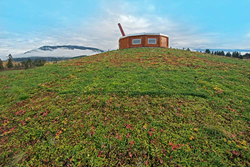 Incorporating a living, green roof on the community centre was the best way to represent a traditional shelter
Enderby, BC (PRWEB) November 18, 2015
This summer LiveRoof topped the new Splatsin Community Centre with a 24,200 square-foot lightweight planted roof. Fulfilling a long-held dream of creating a new community centre, Splatsin carefully crafted a new three-story, 33,581 square-foot building to reflect its history and focus on the future by caring for the land.
The new Splatsin Community Centre was designed to serve multiple functions. The centre provides space for meetings, banquets, weddings, reunions, and concerts. The facility will also have a high school regulation basketball court as well as running track on the mezzanine and will provide many opportunities for community members to access physical activities.
Education outreach is another key focus planned for the new site.
The unique dome-shaped green roof was designed to represent a traditional winter shelter used by Splatsin ancestors. The site design allows stormwater and below-grade drainage to be captured and used to irrigate the vegetated roof as well as ground-level native landscapes around the building and in the area to provide low maintenance and water conservation.
"Incorporating a living, green roof on the community centre was the best way to represent a traditional shelter," according to Shawn Wiebe, Director of Housing, Infrastructure& Lands for the Splatsin Community. "The planted roof also provides sustainability and longevity for the centre, and provides us with an important water recovery and reuse feature."
The vegetated roof was grown by NATS Nursery of Langley, BC using a unique evergreen sedum mix with native accent plants, including: Festuca saximontana, Bouteloua gracilis, and Festuca rubra. As the local LiveRoof licensed grower, green roof experts at NATS Nursery worked closely with the design team and Splatsin leadership to develop this plant palette that reflected the site's unique design elements.
"Our nursery shares with the Splatsin community a love of the earth, as well as responsibility for its nurturing and care," said Rod Nataros, Principal, NATS Nursery. "We were honoured to work with representatives of the Splatsin community to help create this beautiful community centre, helping them establish new roots sprouted from their history and tradition."Encan Construction and Laing Roofing Ltd. were responsible for the construction and installation of the living roof.
Green roofs provide nature function and beauty. A patented, subterranean modular system unites the soil and plants creating a naturally beautiful meadow-like aesthetic. The roofs provide aesthetic, environmental and social benefits. Financial benefits can also be achieved from a vegetative roof including: extension of roof life, energy conservation, enhanced public relations, and conservation of municipal septic systems.
Local media representatives are invited to tour the new community centre.
Photographers/Videographers Welcome –
Please contact: Ron Jacobson, Business Development Manager, NATS Nursery, 604-652-4110.
About LiveRoof® Global, LLC
LiveRoof Global, LLC (http://www.liveroof.com) is the horticultural science company that developed the LiveRoof® Hybrid System, whose natural function and natural beauty offer the highest level of green roof performance at the lowest level acquisition-installation-maturation-maintenance costs. Combining the best elements of proven green roof technologies, LiveRoof establishes a seamless vegetative surface rooted in a continuous layer of soil. This design maximizes environmental benefits, energy savings and rooftop aesthetics. Regional growers in its global network adapt LiveRoof plants for local conditions and customize plant selection for every project. The proof is on the roof showcased in LiveRoof projects that stand out as signature elements on commercial, public, university and school buildings throughout the globe.
Media Contact:
Amber Poncé, GRP
Business Development Manager
LiveRoof Global, LLC
616.935.1964
About NATS Nursery
The NATS Nursery team supplies the arms for a landscape revolution. We grow the lungs of the world. The unique and highly skilled team at NATS is committed to providing the best quality Pacific Northwest plants possible to the global market for restoration, reclamation, reforestation, sustainable gardening, construction and more. We strive to help our customers find the right plant for the right place, and to share our personal passion for plants, and for improving the world in which we live. The NATS Nursery team is happily committed to leading the landscape revolution and pleased to be the grower and supplier of the LiveRoof® Hybrid System in British Columbia.
http://www.natsnursery.com
Media Contact:
Ron Jacobson
Business Development Manager
604-652-4110
About Splatsin First Nation
The Splatsin are the most southern tribe of the Shuswap Nation, the largest Interior Salish speaking First Nation in Canada whose aboriginal territory stretches from the BC/Alberta border near the Yellowhead Pass to the plateau west of the Fraser River, southeast to the Arrow Lakes and to the upper reaches of the Columbia River. The Splatsin people reside on Indian reserve lands adjacent to the City of Enderby to the south and across the Shuswap River to the east. http://www.splatsin.ca
Media Contact:
Shawn Wiebe
Splatsin Housing Infrastructure & Lands Director
250-838-6496