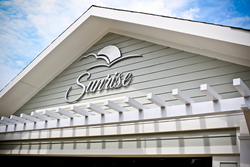 Orlando, Florida (PRWEB) December 04, 2015
Opening in early 2016, Sunrise Detox will be Orlando's first private freestanding medical detox facility. With existing locations in Florida, Georgia, and New Jersey, over 35,000 clients have successfully completed drug and alcohol treatment with Sunrise. The newest Orange County location will help thousands more break the cycle of addiction.
The company treats clients with addictions to alcohol, heroin, prescription painkillers (i.e. OxyContin, Vicodin, Percocet), benzodiazepines (such as, Xanax and Klonopin), and other physically addictive substances. Sunrise Detox combines a safe and comfortable atmosphere with trusted medically supervised detox protocols.
"What sets us apart, is that we offer a safe and effective medical detox in a warm, comfortable environment," Ira Levy, National Marketing Director for Sunrise Detox explained. "Basically, we offer the services of a hospital based detox with a bed and breakfast feel. We believe in providing a relaxing atmosphere, a place where you can feel good about the first steps in your recovery."
Depending on the substance, withdrawal can be dangerous and life threatening. Detox is the first step in recovery and presents both mental and physical challenges. Clients of Sunrise have individual counseling, attend groups throughout their stay, and are assigned a personal counselor who supports them through their detox and develops an aftercare plan.
Finding addiction treatment that fits a person's specific needs can be challenging. The Sunrise Detox staff works with over 800 treatment providers nationwide matching patients needs with trusted treatment programs.
"We accept most major health insurance plans and can check coverage anytime of the day and night," Ira said. "If they don't have insurance coverage, we try to work with the client or family on an affordable self-pay option. We admit patients 24/7 and can provide transportation if needed. We are here to help at a moments notice."
The counselors, medical professionals, technicians, and nursing staff all go above and beyond for their clients. The staff understands what clients are going through, many having personal experience with substance abuse.
"We treat our patients the way we would want our family members to be treated," Ira added. "With us, you're not just a number, you're a human being."
We know that a safe, comfortable detox is the best start for a successful recovery. Sunrise Detox operates free-standing medical detoxification and substance abuse treatment facilities in Florida, Georgia, and the New Jersey/New York Metro area. Sunrise Detox provides a superior medical detox experience in a comfortable and inviting atmosphere, for a "Detox with Dignity." Each Sunrise Detox facility is fully accredited by the Joint Commission.