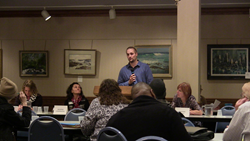 Akron, OH (PRWEB) November 13, 2015
At the First Congregational Church in Akron, on November 12th, Mature Services' Employment & Training Solutions held a Mini-Job Fair for older job seekers.
A variety of companies presented their businesses and current open job positions. The fields these employers are in vary a lot letting mature job seekers have access to a multitude of job opportunities in a plethora of different areas.
Cracker Barrel, Devoted Companions, Dial America, Great Work, H + R Block, Hope Homes, Lowe's, Securitas Security Systems, VXI Global Solutions, LLC and National Church Residences each participated in the event.
Mini-Job Fairs give attendees a great opportunity to ask hiring employers questions directly. This allows for instant communication and for mature job seekers to walk away more informed and with questions answered.
After all the companies presented their businesses and open positions, mature job seekers had the chance to meet one-on-one with employers to network and discuss employment possibilities.
Employment & Training Solution's Mini-Job Fairs are different than the average job fair because they cater specifically to the older adult demographic. Job seekers forty-five years and older are the targeted audience for these job fairs with employers actively seeking mature adult employee candidates.
Kitrenda Miller from National Church Residences explained that she came to these fairs because of "the quality of people Employment & Training Solutions prepares for the workforce. Mature workers are well prepared for interviews, always on time for work and don't have attendance issues."
The next Mini-Job Fair will be held on January 28th, at the First Congregational Church in Akron, at 2:30 pm. For more information, contact dzirkle(at)matureservices(dot)org.