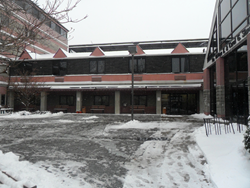 Breakfast service during the coldest months is a natural extension of our mission to fight homelessness and poverty
Paterson, New Jersey (PRWEB) November 16, 2015
"Hope is a good breakfast" Francis Bacon
Starting December 1, Eva's Community Kitchen will open its doors to offer the warmth of a simple, nutritious breakfast to the community. Served Monday through Friday from 8:30 am – 10 am during the cold winter months, the meal will feature a rotating menu of hot oatmeal, pancakes, waffles, grits, bagels and fruit. "Eva's compassion for those in need in the harsh winter weather can't be better displayed than by offering them a warm breakfast and keeping them out of the cold for those few hours. These moments are treasured by our dining guests," noted Chef Darryl Dela Cruz, Executive Chef Director, Eva's Village.
Executive Director, Marie Reger explained, "Breakfast service during the coldest months is a natural extension of our mission to fight homelessness and poverty. Not only can we provide a nourishing meal and a warm refuge, but we also offer the opportunity for newcomers to explore the programs that make Eva's Village a place 'where hope begins' for so many of our participants." The 19 integrated programs at Eva's Village provide access not only to food, but to shelter, counseling, child care, medical and dental care, education and job training. Among the many programs offered by Eva's Village are shelters for men and women, Hope Residence (a shelter for women with children), transitional housing, substance abuse treatment for men, women, and women with children, in addition to a primary medical and dental clinic.
Over the past 33 years, Eva's Community Kitchen has provided a safe and welcoming environment for anyone seeking a meal. Guests do not have to stand in a cafeteria line, but are seated at tables and served plated meals by volunteers. "We treat our guests with dignity and respect," noted Executive Director Reger, "and no one seeking a meal is ever turned away." During the extreme cold of winter and the summer months of July and August, additional seatings are added to accommodate the increase in numbers of homeless and working poor seeking a meal.
A large courtyard outside the dining hall, set back from Paterson's busy streets, is a focus of social interaction. As relationships form, guests come to understand the many resources that Eva's Village offers. Many choose to take the next step - whether it is shelter, substance abuse treatment or primary health care, one of only a handful of hybrid primary care clinics in the state of New Jersey.
Volunteers who help feed the hungry are an essential ingredient in Eva's Community Kitchen and help Eva's Village to perform their mission. Many individuals have become regular volunteers, as well as groups from local business, religious, civic and educational organizations.
Founded by Msgr. Vincent E. Puma in 1982, Eva's Community Kitchen began by serving 30 meals a day in Paterson, NJ. In response to the issues of hunger, addiction and homelessness in the community it has grown to become Eva's Village, a non-profit social service organization that is one of the most comprehensive in New Jersey. The nineteen programs are housed in numerous buildings, spanning several city blocks in downtown Paterson. Since 2011 Eva's has been serving nearly 400 meals a day to guests, in addition to meals for clients living in Eva's shelters and recovery programs (more than 400,000 annually).
Through almost three decades of service, Eva's Village has established a unique record in facing community challenges and changing the lives of the hungry, homeless and addicted. It has grown from a simple soup kitchen to become the most respected anti-poverty program in New Jersey.
Eva's Village is currently recruiting volunteers to serve breakfast in addition to those who serve lunches each day. To find out about joining the 3,500 volunteers who assist with Eva's Village programs each year, visit the volunteer page on our website or email Liz Matthews, Eva's Village Volunteer Coordinator, at Liz.Matthews@evasvillage.org or call 973-523-6220 x 248. To find out more about Eva's Village, visit our website.