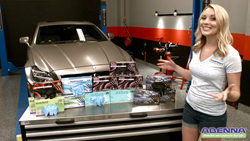 Adenna's entertaining video series helps professionals and consumers to better protect their hands and health with proper glove use and selection.
(PRWEB) November 16, 2015
Adenna Inc., a global supplier of high quality disposable gloves since 1997, releases a series of professionally filmed videos about hand protection and proper glove use.
These one of a kind videos are hosted by models, actors and TV hosts, Sarah Schreiber and Casey O'Keefe. They are filmed at the SEMA Garage facility in Southern California. Topics include handling chemicals with nitrile gloves, differences between latex and nitrile gloves, proper glove use, glove selection and much more. These videos range from 1.5 minutes to less than 3 minutes long, and were filmed in interesting formats and settings to highly engage the audience.
Automotive technicians, mechanics, industrial safety, manufacturing crews, other professionals and the general public will benefit by learning how to protect their hands and health better, and to save money from proper glove use and selection. This seven video series can be viewed at Adenna website, on Vimeo and YouTube.
"Many disposable glove users lack the information of proper glove use and selection to better protect their hands and health. We invested and produced this short video series and with today's technologies, these videos are the best vehicles to deliver this important information to the mass audience via smart phones, tablets and desktops, in a concise, entertaining and efficient way.", said Maxwell Lee, CEO and President of Adenna Inc.
Adenna offers over 20 different styles of disposable gloves for mechanics, industrial safety, manufacturing crews and other professionals to protect against acetone, grease, solvents, paints, isocyanates and other harmful materials. Adenna products are available from Interstate Batteries, Fastenals, HD Supply, many PBE dealers and jobbers of National Oak Distributors, Inc., Basics Etc., Crest Industries, Cintas, Jon Don, Amazon, and Matco Tools trucks in early 2016. For more information, please contact us at (888) 323-3662, email info@adenna.com, or visit http://www.adenna.com
About Adenna Inc:
Established in 1997, Adenna Inc markets and distributes a wide variety of hand protection and healthcare products around the world. Adenna serves customers across a variety of industries including automotive, beauty, dental, EMS, food service, healthcare, industrial, laboratory, law enforcement, safety, tattoo body art, sanitary maintenance, veterinary, etc. Adenna team is dedicated to provide an "Awesome" customer service experience. The corporate office and master distribution center is located in Ontario, California with other distribution centers in Elgin, Illinois and Atlanta, Georgia.