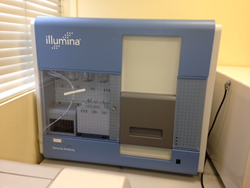 Little Rock, AR (PRWEB) November 16, 2015
Centurion Service Group is very excited to bring to announce the live simulcast auction selling an impressive catalog of medical research equipment. Laboratory tests are completed on clinical specimens to get specific information about the health of a patient. They help to diagnose, treat and prevent disease. Most staff in these laboratories are scientists, rather than doctors.
These laboratory tests can include high-quality molecular pathology equipment, immunohistochemistry equipment, In Situ Hybridization, spectrophotometers, tissue processors, molecular diagnostics systems and much more.
Here are some highlights:

BD Bactec FX Automated Blood Culture System
Autogenomics Inc. Infiniti R System
Bio-Rad (MJ Research) DNA Engine Opticon 2 Real Time PCR w/Comp & Detection
Eppendorf VAPO-PROTECT Model PCR
Illumina Genome Analyzer GAII
Nanosphere Diagnostics Reader Verigene ID
Based in Chicago, and with locations in Las Vegas and Fort Lauderdale Centurion Service Group is internationally known as an industry leader specializing in surplus medical equipment auctions. They have rated the largest medical auction house in the world, selling more than 100,000 pieces of medical equipment every year. Erik Tivin, Chairman, and CEO is regarded as one of the most experienced medical equipment auctioneers and appraisers in the surplus medical industry. His entrepreneurial efforts have continued to expand in the last 20 years, and he serves as an executive on the Board of Directors of the Industrial Auctioneers Association.
Whether you are a first time bidder, or a long-time customer, they offer resources that will assist you in different steps of the auction process. They want their customers to feel well-informed and confident before participating in any of their auctions. To get free tips on becoming an expert buyer click here now!
Auction Info
Tuesday, November 17, Auction Starts at 10 AM CST 
Inspection Monday, November 16 from 9:00AM to 3:00PM CST
Immediate Equipment Removal by Tuesday, November 24, 2015 
9:00AM to 3:00PM CST
No Sunday Removal
Centurion Service Group will be offering online simulcast bidding only. Registration information and the complete list of medical equipment can be found here!
For more information on this auction or upcoming auctions, please visit http://www.centurionservice.com. Contact us at info(at)centurionservice(dot)com