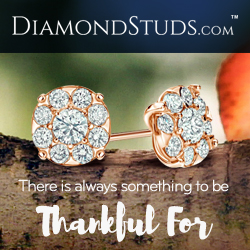 Los Angeles, California (PRWEB) November 13, 2015
Thanksgiving is all about showing appreciation for friends and family. This is why DiamondStuds.com is offering a great 10% off promotion for any purchase made during their early Thanksgiving sale. In addition to the amazing discount, DiamondStuds.com is offering an extension on any returns this holiday season until January 15, 2016 (excluding GIA and EGL USA certified diamonds). This provides customers with enough time to make any changes to their purchase after the holiday season. With so many different styles to choose from, DiamondStuds.com is the perfect place to buy the perfect gift for family and friends. This 10% off promotion on any purchase runs through November 26, 2015.
DiamondStuds.com hopes that the holidays bring nothing but joy and happiness to their customers, which is why ordering the perfect piece of jewelry from DiamondStuds.com is the best way to say 'thanks'. Be sure to take the opportunity to order from DiamondStuds.com before the offer ends.
About DiamondStuds.com:
Armed with a mission of lasting excellence and superior knowledge about diamonds, DiamondStuds.com focuses solely on diamond jewelry. The attention to details allows the company to offer their consumers the largest selection of fine diamond jewelry online. DiamondStuds.com also provides a huge array of customization options, enabling each individual to create an exquisite pair of studs, halo earrings, gemstone earrings or fashion earrings, solitaire pendant or solitaire ring unique to his or her personal preferences. To learn more about DiamondStuds.com, please browse the website at http://www.diamondstuds.com. Customers can call DiamondStuds.com at 1-855-WOW-STUDS (1-855-969-7883), to speak live with a diamond expert or send an email to info(at)diamondstuds(dot)com.