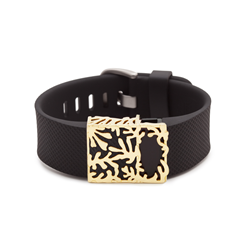 Cambridge, MA (PRWEB) November 16, 2015
Bytten, the innovative fitness accessory brand, announces today the launch of their first retail collection available in brick and mortar stores. The line is an offshoot of their signature collection that is comprised of designs to accessorize Jawbone UP, Fitbit Flex, Fitbit Charge and Charge HR fitness trackers. Previously, Bytten accessories were only available online.
Launched in August 2014, Bytten was created to transform fitness trackers into stylish accessories after founder, Jodi Slater, realized that she was shedding her device during social occasions, deeming the plain band too utilitarian-looking to wear. Slater teamed up with jewelry designer Lucas Goossens, and the duo began creating designs using 3D printing to prototype pieces before casting in brass and sterling silver. Rose gold and 14K gold plated options are also available. The pieces vary from ornate to minimalist, and all easily slide onto the bands of fitness trackers. The accessories add a level of sophistication to the devices without interfering with their functionality or the display and monitoring of important data. In essence, the tracker is turned into a bracelet, able to be worn anywhere from the gym to the dance floor.
The retail collection will feature three designs: the "lucas," reminiscent of an Escher creation, including Goossens' hallmark plus symbol for positivity; the "matisse," inspired by Henri Matisse cut-outs; and the "chloe," featuring a minimalist curved design inspired by the iconic scallop in the ballet flat.
"We saw a void in the market for stylish fitness trackers," says Slater. "We knew women wanted to benefit from all the data that fitness trackers provide but didn't want to sacrifice style in the process. Our mission is to inspire people to lead healthier lives by making wearable technology more beautiful. The expansion to brick and mortar stores in addition to our online channels is a great way to share our mission, and our collection, with even more customers from coast to coast."
Ideal as a holiday gift, Bytten's retail collection is available for $29.95 at Target stores nationwide and on Target.com. Pieces from Bytten's signature collection start at $75 and are available on Bytten.com, Amazon, and Etsy.