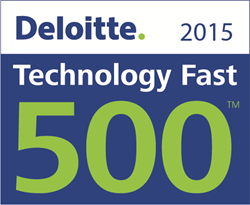 VIGIL Trends, our cloud-based Business Intelligence solution, is the fuel and sustainer of our rapid growth. With thousands of retail outlets across the country implementing Trends, we see no end in site for this growth. Matthew Kushner, CEO
Westminster, Colorado (PRWEB) November 13, 2015
3xLOGIC, Inc., a leading provider of integrated intelligent security solutions today announced it ranked 289th in Deloitte's Technology Fast 500™, a ranking of the 500 fastest growing technology, media, telecommunications, life sciences and energy tech companies in North America. 3xLOGIC accomplished an impressive 238% growth rate in sales during the period measured.
Matthew Kushner, 3xLOGIC chief executive officer, explained where the market-leading growth is coming from, "VIGIL Trends, our cloud-based Business Intelligence solution, is the fuel and sustainer of our rapid growth. With thousands of retail outlets across the country implementing Trends to reduce shrink and drive greater store efficiency, we see no end in site for this growth."
Kushner continued, "This solution has quickly enabled 3xLOGIC to assume a leading position in the Business Intelligence market. Trends has transformed us from a vendor to a strategic business partner with our solutions adding new and ever more valuable actionable intelligence every day."
"Amid a fierce business climate, there seems to be no shortage of new and established companies that are unlocking a seemingly unlimited potential for growth and advancement through technology's continued disruption and proliferation across industries," said Sandra Shirai, principal, Deloitte Consulting LLP and U.S. technology, media and telecommunications leader. "It is inspiring to witness the innovative ways that companies are incorporating emerging technologies for business gains, be it cognitive computing, or the Internet of Things. We congratulate all those ranked on this year's Fast 500 and look forward to seeing their continued growth into 2016."
"Through the efforts and utilization of new and emerging technologies from these companies, we are witnessing greater business demands from across almost all industries," added Jim Atwell, national managing partner of the emerging company practice, Deloitte & Touche LLP. "We look forward to the opportunity to serve these companies as they strive to grow to the next level – be it towards introducing new solutions or entering new markets – and with it make important and long lasting impressions on the technology market as a whole."
3xLOGIC joined the Deloitte Technology Fast 500™ in the first year the company applied for this distinguished award. Overall, 2015 Technology Fast 500™ companies achieved revenue growth ranging from 109 percent to 21,984 percent from 2011 to 2014, with an average growth of 850 percent.
About Deloitte's 2015 Technology Fast 500™
Deloitte's Technology Fast 500 provides a ranking of the fastest growing technology, media, telecommunications, life sciences and energy tech companies – both public and private – in North America. Technology Fast 500 award winners are selected based on percentage fiscal year revenue growth from 2011 to 2014.
In order to be eligible for Technology Fast 500 recognition, companies must own proprietary intellectual property or technology that is sold to customers in products that contribute to a majority of the company's operating revenues. Companies must have base-year operating revenues of at least $50,000 USD or CD, and current-year operating revenues of at least $5 million USD or CD. Additionally, companies must be in business for a minimum of four years and be headquartered within North America.
About 3xLOGIC
A leader in the Security industry for more than 15 years, 3xLOGIC is known for providing complete, easy-to-use surveillance solutions that seamlessly integrate audio, video, access control and disparate data such as ATM, Point-of-Sale (POS), analytics, etc. 3xLOGIC's video surveillance solutions are engineered for scalability and are remarkably simple to install, use and service. Employing the latest advances in NVR, VMS, IP camera, analytic, cloud, and now access control technologies, 3xLOGIC delivers high-value business intelligence anywhere, anytime and from any device. For more information about 3xLOGIC, please visit our website http://www.3xlogic.com.
For Media Queries:
Bruce J. Doneff
Public Relations
843.476.3022
doneff(at)verizon(dot)net
For 3xLOGIC:
Wendi Burke
Senior Director of Marketing
720.945.7966
wendi.burke(at)3xlogic(dot)com
###