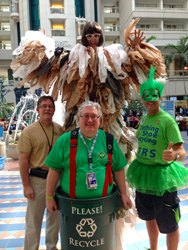 ORLANDO, FL (PRWEB) November 13, 2015
American Textile Recycling Service (ATRS) is celebrating America Recycles Day in The City Beautiful this year with two different clothing and shoe donation drives. Both events are an expansion of existing partnerships ATRS has developed with Orlando International Airport and Orange County, two prominent Central Florida based organizations that both strongly emphasize sustainability goals.
ATRS is teaming up with Orlando International Airport for the second time to help all airport employees "GOAA Green" for Keep America Beautiful's annual holiday. Although ATRS operates dozens of year round recyclers throughout the Central Florida area, dropping off unwanted textile items has never been easier for MCO employees. A signature orange Clothing & Shoe Recycler is located in Lot E of the employee parking lot through November 30. Employees are encouraged to take advantage of this convenient donation opportunity by cleaning out their closets and donating all gently used and out of season clothing, shoes and household textiles.
Anyone traveling through Orlando International Airport was able to join the festivities on Friday, November 13. The airport hosted its annual America Recycles Day celebration in the lobby of the main terminal. Several local companies and green organizations were present to inform the public of simple ways to lessen their individual environmental impact. The ATRS Recycling Elves also attended, situated next to the Airport's Green Team near the Disney Store. Airport travelers recycled unwanted textile items during this event, and learned about everyday recycling opportunities offered by ATRS throughout Central Florida and across the country.
The Recycling Elves will then make their way to Orange County Recycles Day for the third consecutive year on Saturday, November 14. This annual event, hosted at the Orange County landfill, provides an easy & convenient way for local residents to drop off unwanted recyclables of all types, including textiles. Attendees drive through a line of recycling stations before parking and exploring booths hosted by local green companies and services. A variety of family-friendly activities are available along with an informative tour of the municipal landfill facility.
This America Recycles Day, more Central Florida residents than ever before will learn about the impact that textile recycling has in their communities, across the country and around the world. ATRS is committed to hosting year-round events like these as part of its companywide pledge to reduce, reuse and recycle all wearable items while partnering with leading organizations like Orlando International Airport and Orange County to meet their sustainability goals. It's a win win win! For event details, please visit http://www.atrscorp.com/pledge2recycle.
About American Textile Recycling Service (ATRS)
American Textile Recycling Service (ATRS) is the nation's fastest growing textile recycler and proud to be among America's leading companies proudly making America Recycles Day possible. Its socially responsible business model provides free textile recycling solutions for the public, job stimulation worldwide and much-needed funding for worthy local charities. Easy, convenient ATRS recyclers are available throughout Southern California, Atlanta, Orlando, Phoenix, Scottsdale, Tempe and Tucson AZ, San Antonio, Austin, Dallas, Houston, Galveston and Beaumont TX, Michigan, Oklahoma, Colorado, Indiana and Tennessee. For press inquires contact pr(at)atrsonline(dot)com.