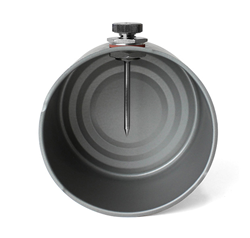 Warner, NH (PRWEB) November 16, 2015
Food safety laws require all canned goods to be heated to certain temperatures internally to kill bacteria. The required temperature varies depending upon the food product but in all cases, proof of proper temperature levels and timeline must be documented and available in a report form as needed for validation.
A product such as canned meat is required to have an internal temperature of 110- 121 °C. Additionally, the meat must be kept at this temperature for a defined period of time, which varies depending on the size of the can and the type of meat inside.
Canning facilities and food processors must use monitoring devices to record temperatures at the innermost point of the can or container to ensure that the entire contents is meeting the specified required temperatures. Ensuring that the probe stays in the exact center of the can poses a challenge, as many probes are pliable and therefore easily move around the can. MadgeTech's latest series, the ThermaLock Pro, solves this problem.
The ThermaLock Pro series from MadgeTech securely affixes to the can or container and locks the data logger probe in place, exactly where it needs to be. The first of the series is the ThermaLock Pro 1.6 which provides the user with a 1.6 inch sheath that extends inside the can. This popular size is ideal for standard tuna fish size cans or similar, to present the probe tip of the logger firmly in place at the center point of the can. This fitting is designed to stay solidly in place throughout the production cycle and provide the user with the continuous record of measurement needed to assure product safety.
The ThermaLock Pro is compatible with MadgeTech's popular HiTemp140-FP data logger. This logger offers a durable and flexible RTD probe with a narrow 2.5 mm diameter. This rugged data logger is made of food grade stainless steel, has an operating environment of -40 °C to +140 °C and an IP68 rating.
All recorded data is easily downloaded to the MadgeTech Data Logger Software for viewing, analysis and reporting. The user friendly tools provided in the software help make the validation process a little easier and more efficient.
To learn more about the new ThemaLock Pro, and other food processing data loggers click here.