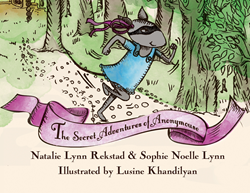 When young people develop empathy, they not only thrive in school and in life, but they also impact the community in positive, often extraordinary ways
Boulder, CO (PRWEB) November 17, 2015
Eleven-year-old Sophie Noelle Lynn, along with her mother Natalie Lynn Rekstad, have announced the publication of their new children's book, "The Secret Adventures of Anonymouse." Aimed at an elementary-school audience, the new book shares the story of a tiny mouse with a big heart, and the transformative power of anonymous good deeds. "When young people develop empathy," said Rekstad, "they not only thrive in school and in life, but they also impact the community in positive, often extraordinary ways."
At the tender age of seven, Sophie Noelle Lynn (the original Anonymouse) began writing secret notes to the faculty and staff at her school to show appreciation for their hard work. It was out of these simple but powerful gestures that Anonymouse began to take shape. Rekstad, a philanthropy consultant, saw the opportunity to inspire children and spread the joy of giving, by collaborating with her daughter on a book. "If we can enhance children's empathy by inviting them to see the world through someone else's eyes—not for attention or praise, but out of a genuine sense of goodness—we can make the world a better place." The story begins on a rainy day with a bored and listless Sophie Mouse. But she soon happens upon a mysterious poem and embarks on an 'anonymouse' adventure of compassion and discovery. As the story unfolds, the title character's small acts of generosity inspire others throughout the forest, creating a culture of kindness and spirited adventure.
The authors invite children and parents to join them for the book launch at the Denver Art Museum, which will feature a reading by the original Anonymouse, Sophie Noelle Lynn. Children can participate in a mask-making project to help inspire their inner kindness superhero. The book is available at http://Anonymouse-AOK.com, where Sophie Mouse invites young readers to share their stories, and a digital version is available on Amazon. A short video about the authors and story can be found at hooplaha.com. A portion of proceeds support the "All in for Her" campaign to advance women and girls (more at http://AllinForHer.org). For a review copy of "The Secret Adventures of Anonymouse," or to schedule an interview with the author(s), please contact Elise Ridgway at 208.921.5525, or BlackFox.Elise(at)gmail.com.
BOOK LAUNCH
Denver Art Museum, Free First Saturday
The North Building
Saturday, December 5, 2015 | 10am – 12pm
100 West 14th Avenue | Denver, CO 80204
720.865.5000
ABOUT THE AUTHORS
Sophie Noelle Lynn
Born in Boulder, Colorado in 2004, Sophie Noelle Lynn (aka "Anonymouse") lives high atop a mesa with her mom, dad, and dogs Singer and Tussle. An avid reader who enjoys many genres—including historical fiction, fantasy and drama—she uses a picture of her beloved mouse Ilsa when drawing Anonymouse. Lynn is an expressive writer of adventure stories involving imaginary worlds, her friends, and all manner of animals. She is currently developing a theatrical adaptation of The Secret Adventures of Anonymouse.
Natalie Lynn Rekstad
Possessed of a heart larger than her checkbook, Natalie Lynn Rekstad leverages her work as a corporate executive, nonprofit founder and philanthropist to positively impact the world through Black Fox Philanthropy (BFP). The firm advises families and individuals on conscious giving, and creates innovative funding strategies for nonprofits. Her innovative approach challenges norms and delivers exponential impact for her clients. Rekstad is an impassioned idealist unafraid to dream of a better world (and also make it happen). When asked about thinking outside the box, she quips, "What box?"
MEDIA CONTACTS
Elise Ridgway
Associate Consultant | Black Fox Philanthropy
BlackFoxPhilanthropy.com | BlackFox.Elise(at)gmail.com
327 Majestic View Drive | Boulder, CO 80303
Mobile: 208.921.5525
David Scott
Founding Principal
CONTENT Public Relations
David(at)ContentUniversal.com
Mobile: 720.371.9164