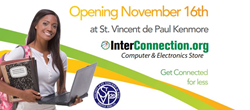 InterConnection is an amazing community resource and we are happy to partner with them. Their computers are high quality and often priced as low as $99
Kenmore, Washington (PRWEB) November 17, 2015
Seattle nonprofit InterConnection and St. Vincent de Paul have teamed up to offer affordable, high quality computers and electronics to the Kenmore community. St. Vincent de Paul's Thrift Store in Kenmore is now hosting the InterConnection Computer and Electronics Store.
St. Vincent de Paul's Kenmore Thrift Store currently serves over 6,500 people a month. The new InterConnection Computer and Electronics store will provide affordable access to technology, with additional discounts for those on a low-income.
"InterConnection is an amazing community resource and we are happy to partner with them. Their computers are high quality and often priced as low as $99 so we believe this will be a great resource for our area," says Steve Knipp, Deputy Director, Society of St. Vincent de Paul Seattle/King County.
At the InterConnection Computer and Electronics Store customers will find great deals on high quality refurbished laptops and computers. Laptops and desktops come with Windows 7 Professional and Microsoft Office 2010 pre-installed. The store will also provide access to other electronics at affordable prices including smartphones, iPods, e-readers, and computer accessories including USB and HDMI cables.
"We are excited to partner with St. Vincent de Paul, they have been bettering communities across the country for well over 150 years. Together, we will be able to provide greater access to technology among our local community. Having a store in Kenmore allows us to reach people who might not be able to make it to our Fremont Store," says InterConnection Founder Charles Brennick.
The store will not only serve St. Vincent's existing customer base but will be an excellent resource for students. Kenmore Elementary School, Kenmore Junior High and Inglemoor High School, along with colleges UW Bothell, Cascadia, and Bastyr are all less than a 10 minute drive from the Kenmore location.
Open from 11am-7pm Monday-Friday, Saturday 10am-6pm, the InterConnection Computer and Electronics Store is located in the St. Vincent de Paul Thrift Store at 7304 Bothell Way Northeast, Kenmore, WA 98028.
For more information visit http://www.interconnection.org