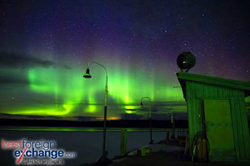 Unlike our competitors that require 24 to 48 hours to arrange for the necessary travel currency, we will maintain sufficient stocks in all of our stores so we are ready for instant collection
London, UK (PRWEB UK) 23 November 2015
It was reported by Daily Mail that the preferred dream getaway for most British travellers is witnessing the Northern Lights. In response to the trending tourist attraction, London-based currency specialist BestForeignExchange.com is making it easier for Icelandic Krona and Scandinavian Krones to visit the Northland by offering them the most competitive exchange rates this autumn.
Based on its own consumer research, the Daily Mail published a report on the 27th of August that identified witnessing Northern Light as the most coveted travel itinerary for British tourists. The report further states that, despite sub-zero temperatures, nearly a half of the travellers would prefer a trip to see the Northern Lights over a summer holiday destination. To help British travellers with their dream trip, BestForeignExchange.com is offering extremely competitive exchange rates for Icelandic Krona and Scandinavian currencies against the British pound for the forthcoming Northern Light viewing season.
"We are very proud to be able to offer the best rates in London and are aware that demand will increase during the forthcoming travel season. Unlike our competitors that require 24 to 48 hours to arrange for the necessary travel currency, we will maintain sufficient stocks in all of our stores so we are ready for instant collection," stated Trevor Samuel, Senior Manager at BestForeignExchange.com
It seems likely that British tourists will be travelling to remote locations to witness the most colourful extravaganza in the sky, which means it may be difficult to locate a nearby ATM. BestForeignExchange.com advises tourists to avoid extra charges on debit, credit and prepaid cards by purchasing travel money in small denominations of the local currency well in advance.
"The Icelandic currencies can be purchased at any of our branches or can be ordered online and still received the next day via Royal mail delivery with zero percent commission," concluded Trevor.
About BestForeignExchange.com:
Owned and operated by Thomas Exchange Global, BestForeignExchange.com offers the most competitive exchange rates in London and customers who reserve currencies online will be assured the same exchange rate until close of business on the particular day despite any adverse fluctuations. The company stocks the widest range of foreign currencies in London with more than 120 types of foreign bank notes. All foreign currency buy/sell transactions are free of any commission or charges.
Thomas Exchange Global also offers International Money Transfer Service where funds can be remitted to overseas bank accounts within one to two days. With commission free service for transfers over £10,000 backed by competitive exchange rates, customers are assured of a better deal and a substantial savings compared to banks and money brokers. Thomas Exchange Global branches are located at Strand, Embankment, Victoria Street, Victoria Place (Victoria rail Station), Liverpool Street, Hammersmith, Wormwood Street, Cannon Street, Canary Wharf, Hammersmith, High Street Kensington and Richmond.