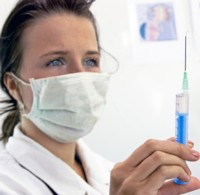 The cost/benefit ratio of this drug for this neoplasm is yet to be ascertained.
Raleigh, NC (PRWEB) November 16, 2015
A new report suggests that there are still questions on the value of the immunotherapy drug tremelimumab for mesothelioma, despite encouraging clinical trial results. Surviving Mesothelioma has just posted an article on the new report. Click here to read it now.
Doctors at the University of Salford in the UK combed the medical literature for information on the monoclonal antibody tremelimumab and decided that it is still too early to tell how much the drug may help people with malignant pleural mesothelioma.
According to study author Alice Guazzelli, a PhD researcher at the University of Salford, "Even though clinical efficacy has been preliminarily demonstrated, the cost/benefit ratio of this drug for this neoplasm is yet to be ascertained."
The paper, published in the new issue of Opinion on Biological Therapy, says the results of the early mesothelioma trials of tremelimumab are "now under critical consideration".
"Until a cure for mesothelioma can be found, every new potential treatment has to be subjected to this kind of cost/benefit analysis," observes Alex Strauss, Managing Editor of Surviving Mesothelioma. "Combatting mesothelioma while preserving quality of life is always a balancing act."
To learn more about tremelimumab and the findings of the new report, see Fighting Mesothelioma with Immunotherapy Drug Tremelimumab, now available on the Surviving Mesothelioma website.
Guazzelli, A, et al, "Tremelimumab for the treatment of malignant mesothelioma", November 11, 2015, Expert Opinion on Biological Therapy, Epub ahead of print, http://www.ncbi.nlm.nih.gov/pubmed/26560442
For nearly ten years, Surviving Mesothelioma has brought readers the most important and ground-breaking news on the causes, diagnosis and treatment of mesothelioma. All Surviving Mesothelioma news is gathered and reported directly from the peer-reviewed medical literature. Written for patients and their loved ones, Surviving Mesothelioma news helps families make more informed decisions.