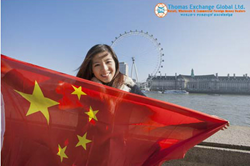 Starting in 2016, Chinese tourists will be able to apply for a visitor visa good for up to 2 years in country
London, UK (PRWEB UK) 25 November 2015
Starting in 2016, Chinese tourists will be able to apply for a visitor visa good for up to 2 years in country—a significant increase from the 6 months previously allotted to Chinese natives. In response, London-based foreign currency specialist Thomas Exchange Global announced it will provide the new cohort of tourists with the best buy back rate for the British pound in exchange for the Chinese yuan.
London & Partners, the official promotional company of the British capital, announced on October 21st that there will be a new two-year span visitor visa available to Chinese tourists starting in 2016. Thomas Exchange Global facilitates upcoming travel plans being made by Chinese tourists in light of the new opportunity, offering them the most competitive currency buy back rates in London.
Considering the visa previously available to the Chinese was capped at 6 months in-country, Thomas Exchange Global anticipates there will be a large influx of Chinese tourists in London—and is committed to offering them the most competitive exchange rates for converting Chinese yuan to the pound sterling.
The report further noted that Oxford Economics has forecasted a 77% increase in spending by Chinese tourists over the next 8 years—already currently contributing more than £500 million to the UK economy per annum.
"We are delighted by this new development and welcome Chinese visitors with open arms. China is one of London's main markets in the tourism industry. The city has so much to offer the Chinese community…culture, history, food, shopping—and a vibrant home away from home for the Asian culture—China Town. Accordingly, we are committed to offering visitors the best deal for purchasing currency during their stay in London," stated Trevor Samuel, Senior Manager at Thomas Exchange Global Ltd.
All of the transactions at Thomas Exchange Global are commission-free with exchange rates displayed on the windows at each branch to maintain a high level of transparency on pricing. Additionally, Thomas Exchange Global accepts foreign credit cards and executes international bank transfers at highly competitive rates.
"We don't believe in so-called 'tourist rates'," exclaimed Trevor. "We offer the best deal in London by far."
For further details about Thomas Exchange Global or its currency exchange services, please visit http://www.thomasexchangeglobal.co.uk, or call 020 7240 1214.
About Thomas Exchange Global
As dedicated foreign exchange specialists, Thomas Exchange Global has the professional expertise, in depth market knowledge, technological infrastructure and commitment to provide an unprecedented level of service that sets the standard in the foreign exchange industry. They are specialists in all areas of foreign exchange. They provide commission free currency as well as travellers cheques.
Thomas Exchange Global also offers International Money Transfer Service where funds can be remitted to overseas bank accounts within one to two days. With commission free service for transfers over £10,000 backed by competitive exchange rates, customers are assured of a better deal and a substantial saving compared to banks and money brokers. Thomas Exchange Global branches are located at Strand, Embankment, Victoria Place (Victoria Rail Station) Victoria Street, Liverpool Street, High Street Kensington, Hammersmith, Canary Wharf, Cannon Street, Wormwood Street and Richmond.