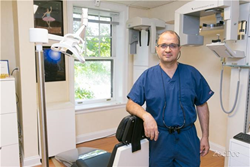 I want to make my patient's lives easier while providing the best care possible- KeySmile helps me do that."
Winnetka, IL. (PRWEB) November 16, 2015
With dental disease on the rise and millions still uninsured, Dr. Ardeshir Raghian of Orthodontics & General Dentistry at 723 Elm St. took matters into his own hands. "My patients are like my family and I was sick and tired of insurance not covering treatments that left people missing crucial appointments." That is why he opted to offer something entirely different. Enter KeySmile, an in house membership option that takes the middle-man completely out of the picture.
"It is like having a membership card to a grocery store, for a small monthly fee patients save on all basic services plus receive a significant discount on any other services they need or want" says Dr. Raghian.
The benefits of an in-house offering versus a third party plan are obvious.

No Deductibles
No Annual Maximums
No Claim Forms
No Balance Billing
No Age Limitations
No Pre-Determination of Benefits Required
Savings on cosmetic procedures
No wait for services
Yearly savings to the patient of up to $350.00
According to Dr. Raghian, KeySmile is the future of dental benefits. "It just makes sense. My patients need to be in charge of their health and that starts with me. It is easy for dental offices to offer KeySmile. I want this to be something my patients see as a true benefit, I want to make their life easier while providing the best care possible- KeySmile helps me do that."
Bob Bowers, COO of Oral BioTech states: "KeySmile is a dental membership plan for the 40% of people who do not have dental insurance. Dental disease is the #1 disease in the United States and changing that starts with patient's having affordable access to preventive dental care."
To find a KeySmile provider near you, or to become a KeySmile provider go to: https://www.keysmile.com/
Orthodontics & General Dentistry at 723 Elm Street
Dr. Ardeshir Raghian
WinnetkaOrthodonticsDentistry(at)yahoo.com
224-255-6133
Orthodontics & General Dentistry at 723 Elm St. is located in Winnetka, IL. Our office provides a wide range of dental services for both adults & children. We strive to provide personalized care that lessens any anxiety associated with a visit to the dentist. Our facility is comfortable, and our goal is to promote excellent oral care.
http://www.WinnetkaDentalCare.com