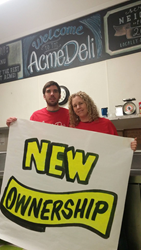 Everyone in St. Paul knows Acme Deli! - Shannon Skally, owner
(PRWEB) November 16, 2015
Food delivery, catering and walk-in food has never been better in St. Paul's Highland Park and Macalester Groveland Area. Shannon and Chad Skally have recently taken over ownership of Acme Deli, the iconic St. Paul neighborhood restaurant. Seeking to build on the 20-year reputation of Acme Deli, the Skallys have made several enhancements to the popular Macalester-Groveland neighborhood lunch spot. The storefront received a facelift, which includes increased seating for dine-in customers, additional menu options and seasonal specials were added to the traditional menu line-up, and there is an increased focus on customer service with a family-friendly vibe.
The Skallys are long-time St. Paul residents and Chad Skally is active in the St. Paul small business community both as a former president of the Grand Avenue Business Association and through his two businesses; Skally Management, a local apartment management company and Skally Tax Service, a tax preparation service.
The Skallys are the third owners of Acme Deli and acquired the business in January 2015 when the previous owner relocated out of state. This is their first food service venture and according to Shannon Skally they are excited to be taking the reins of this St. Paul lunchtime institution. "Everyone in St. Paul knows Acme Deli!" said Shannon Skally. "We're working really hard to live up to the stellar reputation that the original owner built and to reestablish connections both in the neighborhood and throughout St. Paul, especially with our catering and box lunch services."
"One of the best things about owning a local sandwich shop is having fun activities for the neighbors to come and enjoy," Chad Skally stated. After a fun and well-received Willy Wonka-inspired Halloween promotion, which gave patrons a chance at winning a $100 bill hidden in a candy bar wrapper, Acme Deli is excited to be hosting a selfie contest for Small Business Saturday on November 28th and a visit from Santa on Saturday, December 12th.
About ACME Deli: ACME offers a wide variety of lunch and catering options in St. Paul. ACME offers walk-in service, pre-orders, food delivery and catering. ACME has a 20 year history of providing the best, freshest food delivery in Highland Park.
For more information visit http://www.acmedeli.com.
Media Contact:
Visit us at http://www.ACMEdeli.com @ACMEdeli
SOURCE: ACME Deli
For further information: Shannon or Chad Skally (acmedeli1552(at)gmail.com or 651-280-4423)