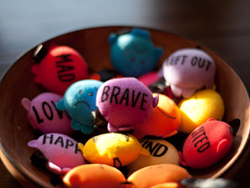 During Military Family Month, we pay tribute to and thank our military families for their service to our country, and we recognize the extraordinary ways in which they give of themselves for us all.
San Rafael, CA (PRWEB) November 21, 2015
Kimochis/PFC, a California based social emotional learning education company, released the new Kimochis Activity Kit for Military Families in September 2015 to help address the unique emotional needs of military children. Military families know all too well that feelings can run high before, during, and after a service member leaves home for military duty. With activities to help families navigate the different stages of deployment and separation, the kit's activity book was written by communication expert and Kimochis educational director Ellen Pritchard Dodge, M. Ed., CCC-SLP in collaboration with Ft. Bragg school psychologist Mark C. Pisano, Ed.D. and Major Christopher Atkins, LCSW as a way to help families be better prepared to:

Manage emotions and challenges in a way that helps each family member feel understood
Be supportive, understanding, and compassionate toward other's emotional needs
Strengthen parent-child and parent-parent connections
Stay unified during separations
Celebrate and reintegrate the service member back home in a way that both honors and guides a positive transition
President Barack Obama proclaimed November 2015 to be Military Family Month: "Since our country's founding, brave members of our military have stood strong as one American team, ready to defend our homeland and safeguard the values for which we stand. They represent the best our Nation has to offer, and serving alongside them are proud and loving family members—heroes on the home front. Each day, they make sacrifices for their loved ones and their country. They have answered their call of duty, and as a Nation, we must answer ours and serve them as well as they have served us. During Military Family Month, we pay tribute to and thank our military families for their service to our country, and we recognize the extraordinary ways in which they give of themselves for us all. … "
In 2014, Kimochis/PFC was awarded a five-year contract with the Department of Defense Education Activity (DoDEA) schools in the US to provide social emotional learning products and training to school counselors and psychologists in the DDESS system. The Kimochis Activity Kit for Military Families was specifically developed for this program and delivered to DDESS schools in September 2015. In November and December of this year, Ms. Dodge will be conducting professional development workshops for the DDESS school counselors and psychologists at seven installations currently using the Kimochis Activity Kits. "Kimochis look like toys, but they are actually a profound communication tool that can bring much needed relief to military families who experience the emotional trauma of deployment on an unprecedented scale," explained Ms. Dodge. "The visual, tangible, and playful aspects of the Kimochis are a communication game-changer for our world and a welcomed addition to a mental health professional's tool box."
"All military families experience emotional stress associated with deployment in the form of anxiety/fear of a loved one being in combat or in a dangerous training mission. The absence of the service member requires the family members to renegotiate their roles at home and the transition is often hard to handle," added Dr. Pisano. "After 33 years of supporting military children and their families, finally there is a tool available to address that feeling of being disconnected during deployment. When children see the Hero character and the Nesting Heart their faces light up and they immediately want to hug him. A bowl of feeling pillows helps children talk without having to say a word and the activity book addresses the emotions at every stage of deployment. This kit is a must have for schools, families and mental health providers who work with military children."
In September 2015, Kimochis/PFC also launched a separate donation and application process to get more materials into the actual homes of military children schooled both inside and outside the DDESS system. "We are grateful to be able to provide materials to children within the DDESS system, and we are well-aware that is a small percentage of the total population of military children around the world. We've received incredibly touching letters from families both within the DDESS system and outside of it, requesting to have a Kimochis kit at home. It's wonderful for children to be able to use the kit at school, but it's an even more powerful tool for connection when the whole family can have access to it at home," explained Kimochis operations director, Susan Schroeder. "The mother of a US military family living in Germany recently called our office and both she and our customer service coordinator, Sabrina, broke down into tears as this mother described some of the challenges her children have been faced with. We are doing everything we can to get kits into the hands of these families and the demand for kits is currently larger than our supply of donations. We may be a small company, but our philosophy is that no family should be turned away, so we are actively seeking donations and partners to help us get kits to the families who need them."
BE A HERO – To make a $25, $50, or $150 (complete kit) donation to help Kimochis provide kits to military families, please visit: http://www.kimochis.com/about/resources-for-military-families/
YOU ARE A HERO – To apply to receive a donated kit, please visit:
http://www.kimochis.com/apply-to-receive-a-kimochis-activity-kit-for-military-families/
According to AASA, The School Superintendents Association:

There are currently 1.2 million military children of active duty members worldwide.
Nearly 80 percent of military children attend public schools through the United States.
The average military family moves three times more often than their civilian counterpart.
The repeated and extended separations and increased hazards of deployment compound stressors in military children's lives.
One third of school-age military children show psychosocial behaviors such as being anxious, worrying often, crying more frequently. (Flake, E.M.; Davis, B.E.; Johnson, P.L.; Middleton, L.S. [August 2009]. "The Psychosocial Effects of Deployment on Military Children." Journal of Developmental & Behavioral Pediatrics.)
A positive school environment, built upon caring relationships among all participants—students, teachers, staff, administrators, parents, and community members—has been shown to impact not only academic performance but also positively influence emotions and behaviors of students. (Blum, R. "Best Practices: Building Blocks for Enhancing School Environment." Military Child Initiative)
Supporting the military child takes a school-wide effort, and professional development opportunities to inform school staff of the academic and social-emotional challenges military children face.
The Kimochis Activity Kit for Military Families is intended for children ages 3 and up and includes:

Kimochis Hero - 13 inch plush character
Kimochis Nesting Heart - One plush heart nestled inside another plush heart.
During military duty, training, or deployment, or even regular day-to-day separations the service member parent can take the inner heart with them while the family keeps the outer heart at home. The hearts are a physical symbol that says, "Even though we are apart, we are always in each other's hearts."

Two Mixed Bags of Mini Feelings - 15 feelings included in each bag: Nervous, Happy, Sad, Mad, Loved, Scared, Excited, Brave, Proud, Sorry, Grateful, Frustrated, Kind, Left Out, and Cranky. One bag of Feelings can go with the service member parent when they are away on duty and the other bag can stay at home. Mini Feelings can be clipped to the carabiner key chain and attached to a backpack, purse, lunchbox or belt loop as a way to express your feelings.
Hero's Big Adventure - 32-page hard cover picture book
Kimochis Activity Book for Military Families – 80-page book including eight chapters worth of fun and memorable family activities that help build connection and keep the lines of communication open during the different stages of separation that military families experience.
Kimochis/PFC is a San Rafael, CA based company providing social emotional learning tools and workshops to schools, families, and mental health professionals. For more information on Kimochis programs, please visit: http://www.kimochis.com. To contact us, please email: kimochime(at)kimochis.com.