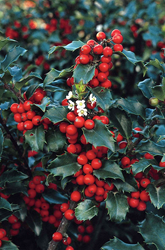 Hollies are fuss-free, versatile shrubs that bejewel the winter landscape with a burst of color.
Azusa, CA (PRWEB) November 17, 2015
Though most often thought of when decking the halls, hollies are useful, tough, fuss-free shrubs that charm in all seasons. And, that's not even talking about those bright berries. Monrovia, the largest grower of premium container grown plants, has five easy ways for homeowners to use these shrubs in the landscape.
"Hollies are like a little black dress for the landscape," says Kate Karam, spokesperson for Monrovia. "From elegant, dense hedges and spectacular stand-alone specimens to shapely foundation anchors and container cuties, they make everything they're planted with look that much better. Hollies perform well year-round—but in winter when they sport red, orange, yellow, or black berries, they dazzle."
Here are five ways to use hollies in the landscape.
Hedges and Screens
Because of their year-round foliage, ease of pruning, and generally quick growth rate, evergreen hollies such as Berri-Magic® Royalty Holly Combination (male and female varieties planted in the same container) and Santa's Delight® English Holly whose spiny leaves provide a useful barrier, make good hedges.
Foundations
When it comes to the front of the house, hollies look best in spring and summer when paired with flowering deciduous shrubs such as hydrangeas and viburnums or perennials such as grasses. Evergreen hollies such as Dwarf Burford Holly, a dwarf compact variety and Castle Spire® Blue Holly are ideal choices.
Naturalizing
Winterberries (Ilex verticillata) such as Berry Nice® Winterberry Holly are native deciduous hollies that lose their leaves in winter; what remains is a breathtaking display of thousands of brightly colored berries clinging to every stem. Leave unsheared, loose and open and watch the birds flock. Most require a pollinizer for best berry set.
Show stoppers
Instead of a conifer as a stand-alone, brake-slamming specimen, consider a handsome holly instead. Red Beauty® Holly which maintains a dense, upright, conical form with little or no pruning, make a real statement in the winter when not much else is happening in the landscape. Just add twinkle-lights for a living Christmas tree.
Containers
From compact varieties that can be sheared into tight balls to tall, narrow columns, hollies are excellent container plants. Use Soft Touch Compact Holly or Sky Pencil Japanese Holly at the front door or wherever you need a focal point.
"There's a splendid, problem-solving holly for just about every USDA zone," says Karam. "Visit your local garden center to find the perfect choice for your yard. And be sure to cut some branches for decorating this holiday season. "
For more information, interviews or hi-res images, please contact Kate Karam at kkaram@monrovia.com.
About Monrovia:
Founded in 1926, Monrovia is the leading grower of premium container-grown perennials, shrubs and ornamental plants, with more than 3,600 varieties, including more than 250 exclusives. Monrovia's four environmentally responsible nurseries are located in Visalia, CA, Dayton, OR., Cairo, GA, and Granby, CT. Monrovia plants can be purchased in-store or online with delivery to independent garden centers, and at Lowe's locations nationwide.