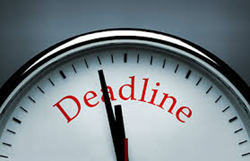 She's never made a mistake -- according to her.
(PRWEB) November 16, 2015
Lynne Curry, Ph.D., SPHR (CEO of The Growth Company, Inc. and author of Solutions and Beating the Workplace Bully) has over 30 years of experience in management consulting and frequently receives questions from clients regarding situations in the workplace. Today, Dr. Curry discusses a question about deadlines and excuses.
A client asked, "I've worked alongside "Mary" for three years. In those three years, she's never made a mistake -- according to her. For example, when she fails to give me critical information by a deadline I've given her, and I mention it to her, she invariably says it was because I wasn't clear enough on what I needed or the deadline. I could give you dozens of other examples, but the bottom line is she always blames me for any problem. Needless to say, this is annoying, but I've let her get away with it. I could easily print out the emails I sent her that totally laid out the deadline and what was needed, but haven't wanted to deal with how tense things will get if I show her how wrong she is. Today, I paid for this..."
Click here to read the full question and Dr. Curry's response.
The Growth Company, Inc. is a Human Resource Management consulting firm specializing in soft skills training, facilitation and mediation as well as investigations, coaching and manual/policy write ups and re-writes. For further information about The Growth Company or Dr. Lynne curry, click here or go to http://www.thegrowthcompany.com or http://www.bullywhisperer.com.