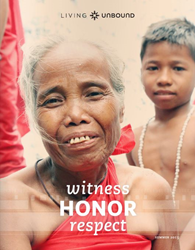 Kansas City, KAN. (PRWEB) November 16, 2015
"In an Instant," a video created by the international nonprofit organization Unbound, and Living Unbound, a magazine also created by the nonprofit, were chosen as winners in the recent HOW In-House Design Awards. This highly selective and well-regarded competition sponsored by HOW magazine recognizes the best creative work produced by designers doing in-house work for corporations, associations and organizations.
"In an Instant" garnered an Outstanding Achievement Award while Living Unbound was recognized as a Merit winner.
HOW's editorial and design team — along with Ashleigh Axios, the White House's digital creative director; Alex Center, Coca-Cola Company's design manager; and Ed Roberts, InSource's director of marketing and HDL's in-house management programming partner — evaluated more than 1,000 entries and selected winning projects that demonstrated an ideal mix of concept, strategy and execution. Entries were judged by business category and also by how effectively the design achieved stated goals.
Project title: "In an Instant"
Creative team: Michele Batliner, Luis Cocón, Henry Flores and Cara VanNice
"In an Instant" shows audiences that children living in poverty are waiting and longing for a chance to go to school, and that it's easy to change a life with the click of a button.
Project title: Living Unbound, Winter 2014 and Summer 2015
Creative team: Veronica Batton, April Befort-Neumann, Amanda Burian, Jordan Kimbrell, Loretta Shea Kline, Larry Livingston, Anne Peetz, Cara VanNice
Living Unbound features compelling images and stories from around the world. The Winter 2014 issue focused on relationships and their importance in encouraging and empowering people on a path out of poverty. The Summer 2015 issue centered on respect as a theme and how, according to the magazine, "When we open our hearts and minds to the stories of those whose lives are very different from our own, we grow."
All Outstanding Achievement winners will be featured in the Winter 2015 issue of HOW magazine and will be spotlighted on HOWdesign.com. As In-House Design Award winners, the Unbound creative team will receive a $100 gift certificate toward registration for HOW Design Live 2016.
About Unbound
Unbound is the largest nonprofit organization in Kansas with more than $120 million in annual revenue. Unbound works side by side with people of diverse faiths in 20 countries, bringing people together to challenge poverty in new and innovative ways.
Unbound distributes direct aid as quickly and efficiently as possible to people who need it. 92.5 percent of Unbound's expenses go toward program support.
About HOW
Founded in 1985, the HOW brand began its life as a print magazine. Today, the brand still includes an award-winning design magazine, but has grown to encompass a host of products and events including several design competitions, HOW U's online design courses, design books (available at MyDesignShop.com) and more. HOW's mission is to serve the business, creativity and technology needs of graphic designers.
#