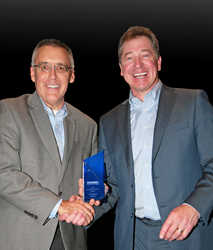 We are honored to be recognized as a company that goes above and beyond for our customers.
Twinsburg, OH (PRWEB) November 16, 2015
Corporate Living received the 2015 Consultants' Choice Award at the 15th Annual Graebel Relocation Alliance Conference in Colorado. Corporate Living was recognized as a top-performing relocation and mobility service partner of Graebel Companies, Inc.
The Graebel Relocation Alliance recognizes best-in-class service practices and programs every year. Corporate Living's exceptional performance in the relocation services industry continues to be recognized by its customers and partners around the world. "Clearly Corporate Living is a focused and innovative organization, and I appreciate the effort they have put forth in support of our clients," says William (Bill) H. Graebel, SGMS, President & CEO, Graebel Companies, Inc.
This recognition demonstrates Corporate Living's dedication to high quality service for both its domestic and international customers. "We are honored to be recognized as a company that goes above and beyond for our customers, by providing them with outstanding service," said Karen Baldridge, President/CEO of Corporate Living. "The award serves as acknowledgement of the quality service and partnership we provide for employees relocating through Graebel Companies."
About Graebel Companies, Inc.
Graebel Companies provides employee and commercial relocation services to industry leaders in 165 countries. Its core businesses – Relocation Solutions, Move Management and Commercial Relocation – allow companies to relocate their talent and facilities around the globe. Founded in 1950, Graebel Companies is known for its industry-first innovations and best-in-practice performance. Visit http://www.graebel.com to learn more.
About Corporate Living
Corporate Living is a temporary housing company providing corporate furnished apartments throughout North America. A certified Women's Business Enterprise through the Women's Business Enterprise National Council (WBENC), Corporate Living has a successful 22-year history in the corporate housing/furnished apartment industry. The company continues to deliver high-quality products, backed by exemplary service throughout the U.S., Canada, India and the UK, with stays of 30 days and longer. Corporate Living is headquartered in Twinsburg, OH, with regional offices in New York City, NY and Phoenix, AZ. Please visit our website at http://www.corporateliving.com to learn more.