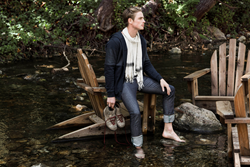 Our merchandising strategy makes sense for our organizational structure - members are going to see more bang for their buck with Five Four.
Los Angeles, CA (PRWEB) November 17, 2015
Five Four revealed final touches on an innovative strategy for their members to build a cohesive wardrobe every season. The merchandising plan was launched in September, where the strategy of "3 Months = 1 Season of Style" was set in place. Propelling this unique approach are original, in-house designs, as Five Four is the only menswear subscription brand with a vertically integrated approach when creating, producing, and delivering original label items directly to consumers. With their loyal, growing membership in mind, Five Four has strived to design monthly packages around seasonality, presenting a different theme every three months.
"The decision to merchandise [our monthly collections] around each season made perfect sense considering our organizational structure," said Andres Izquieta, Creative Director and Co-founder of Five Four. "Not only does this strategy help with planning and production, it provides even more bang for our member's buck. They're going to see a cohesive wardrobe build over the course of a season, regardless of where they live, and they'll be able to mix in Five Four with items they already own. Five Four pieces complement a closet, and doesn't create chaos within it."
The new strategy is currently seen in Five Four's Fall '15 "On The Road" campaign, shot on location in Big Sur, California. The campaign falls in line with the merchandising notion, with creative designed to reflect Five Four's expertise on teaching its members how to dress stylishly in a simple and intuitive manner. The goal is to reduce pressure of dressing well by having access to a plethora of styling tools, which provide guidance and build confidence in personal styling choices.
For the fall collection, pieces from the collection were versatile in their composition, ranging from lightweight sweaters to warmer knits. Colorways were in warmer tones including olive, khaki, and navy blue. Staying on-trend, the collection included dark denim jeans and chinos in a wide array of colors. Jackets were designed to be lightweight and allow for layering underneath; soft-hand scarves were also included for a stylish accessory. The notion was to design pieces that allow for an easy transition as fall months draw to a close.
ABOUT FIVE FOUR
Five Four is a men's fashion company that creates contemporary style for the modern man. Founded in 2002, the company takes pride in its independence, phasing from a traditional retail label to a modern, technology-driven lifestyle brand. Today its main driver is Five Four Club, the only men's clothing subscription service to create and deliver original designs directly to consumers. Built on the idea that a man should gain confidence from what he wears, the vertically integrated model ensures its members receive an original and versatile monthly package. To date, over 150,000 men in the United States, Canada and the UK have trusted Five Four to update their look.
Visit Five Four to learn more, and take the style profile quiz.