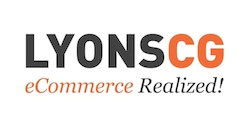 All of us at LYONSCG strive every day to help our customers realize their full eCommerce potential
Chicago, IL (PRWEB) November 16, 2015
Lyons Consulting Group (LYONSCG), the premier eCommerce digital agency enabling retailers, branded manufacturers, and B2B merchants to realize their eCommerce potential, announced today that it was named to Consulting Magazine's list of Fastest Growing Firms. LYONSCG is ranked 9th in the 2015 list, which is the first time Consulting has published growth rankings. Consulting magazine's Fastest Growing Firms list includes consultancies of all sizes and from any sector. Firms are ranked by their rate of revenue growth between 2011 and 2014.
"I am extremely proud our company's growth, as it demonstrates that we continue to meet our clients' needs in the eCommerce marketplace," says Rich Lyons, CEO and President of LYONSCG. "All of us at LYONSCG strive every day to help our customers realize their full eCommerce potential, and our growth is the best measure of our success."
On its journey to the 2015 Fastest Growing Firm list, LYONSCG has tripled its revenue and added more than 200 jobs globally over the last three years. The firm recently opened a new office in Dallas and opened its first international office in London last year. Also this year, LYONSCG moved to new expanded facilities in Rockford and is doubling its workspace in Ann Arbor. LYONSCG continues to hire aggressively to add to its expertise on the Magento, Demandware and hybris eCommerce platforms, marketing and strategy services, experience design capabilities and hosting and support operations.
"We are uniquely organized to serve our clients throughout their eCommerce lifecycle," says Norman A. Alesi, COO & CFO at LYONSCG. "Our consultative account management team partners each of our eCommerce service offerings in alignment with our clients' goals; our growth and success is directly attributable to client successes in the marketplace."
LYONSCG has emerged as a leader in the eCommerce digital agency space while building upon a stable of strong technology partnerships that includes Magento, hybris Software, and Demandware. Earlier this year, the firm was recognized as Demandware's Delivery Partner of the Year.
"It is exciting to help our clients drive strategic initiatives that result in eCommerce and omni-channel growth," says David Barr, Executive Vice President of LYONSCG. "Our clients look to us for a holistic approach that can change as their needs and capabilities evolve"
LYONSCG has received previous recognition from Consulting magazine. The publication recognized the firm as one of the Seven To Watch consultancies as part of their 2014 Seven Small Jewels feature and has named two LYONSCG consultants as Rising Starts of the Profession, Sarah Griffis in 2014 and James McDonald in 2015.
About Lyons Consulting Group (http://www.LYONSCG.com)
Lyons Consulting Group (LYONSCG) is the industry's premier eCommerce digital agency, serving brands, retailers, and B2B organizations with tailored solutions that maximize their online potential. Headquartered in Chicago with offices around the world, the firm offers a full range of digital strategy, digital marketing, application hosting and support, experience design and eCommerce implementation services for the Demandware, hybris and Magento platforms.
LYONSCG is the recipient of the Demandware Delivery Partner of the Year, Magento Partner Excellence and Magento Innovator of the Year awards. LYONSCG's approach is holistic—we provide every client with solutions for a creative, robust and increasingly profitable eCommerce website. LYONSCG is eCommerce Realized.