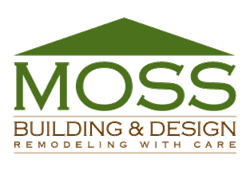 I took an opportunity to work with MOSS doing what I enjoy the most
Chantilly, VA (PRWEB) November 14, 2015
Moss Building and Design is excited to announce two new members of their team. Sales Consultant, Kevin Berkheimer and Project Manager Ben Jackson. Both Ben and Kevin bring an extensive background of experience to their position, making them assets to the MOSS team.
As a project manager, Jackson will be responsible for scheduling, coordinating crews, and communicating with homeowners to make sure their remodel runs smoothly. Through his extensive background, Jackson strives to exceed customer expectations. "I have been a project manager for the last 15 years and have had extensive experience with insurance restoration and remodeling."
In his role as a Sales Consultant, Kevin Berkheimer meets with clients to listen and discuss their remodeling needs, and then handles proposals and executes contracts. He started in the home construction industry with his family business, where he was the operations manager for seven years. Later, he would start his own remodeling company, handling every aspect, from marketing to payroll. At MOSS, he will fine-tune his focus to Sales. "I took an opportunity to work with MOSS doing what I enjoy the most," Berkheimer said.
About Moss Building & Design and Moss Home Services:
Moss Building & Design and Moss Home Services is an award-winning residential remodeling and home services company located in Chantilly, Virginia. As a trusted home improvement company in Northern Virginia, MOSS focuses on providing customer service that is unparalleled by any other contractors in the area. MOSS builds lifelong relationships with their customers that are centered around this trust.
Since 2001, MOSS has established a reputation for excellence in remodeling additions, kitchens, bathrooms, basements and home services throughout Northern Virginia. Their customers see them as a trusted partner, and MOSS is very proud that over 85% of their customers consider themselves 'customers for life.' Moss Building & Design has won consumer awards from Angie's List for five consecutive years and also has an A+ rating from the Better Business Bureau as well as many industry building and design awards.