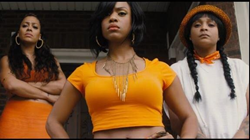 Los Angeles, CA (PRWEB) November 17, 2015
Fans of the NBA 2K franchise may recall the debut of the game's first feature film "Livin Da Dream," A Spike Lee Joint in this year's NBA 2K16. The game also introduced actor Michelle Mitchenor (Pictured Centered ) as CeCe, the fraternal twin sister and manager to players in career mode. Most fans that know Mitchenor by voice, will now have the opportunity to see her on the big screen as she co-stars in Spike Lee's new film Chi-Raq. Michelle will be co-starring alongside Nick Cannon, Teyonah Parris, Jennifer Hudson, Samuel L. Jackson, and Wesley Snipes. Already generating Oscar buzz, Chi-Raq seems to be the perfect breakout role for Michelle Mitchenor.
Michelle, who was discovered by Spike Lee, says, "Having the opportunity to work with an innovative and visionary talent like Spike twice in one year was more than I could have asked for," she says. "I am grateful for Spike in seeing my talent and giving me the opportunity."
In the film, Mitchenor plays Indigo, the "badass" leader of the rival gang and girlfriend of Cyclops (Wesley Snipes). Indigo is convinced by Lysistrata (Teyonah Parris) to withhold sex from her lover in an attempt to persuade every woman in the city to join the strike in order stop the violence.
Based on the famous Greek play Lysistrata, Chi-Raq is named one of the most controversial films to date, as it exposes the extreme gang violence currently happening in Chicago. In a released statement by Spike Lee, he states "Chi-Raq is not a comedy. Chi-Raq is a satire," says Lee. "In no way, shape or form are we making light of the lives that have been murdered in this senseless violence."
Fans may also recognize the New Jersey native from her professional dance career, performing in music videos with Grammy award winning artists such Beyonce and Cee Lo Green. Mitchenor has also shared the live stage with Grammy Nominated artists such as Pharrell, Rihanna and Janelle Monáe.
###